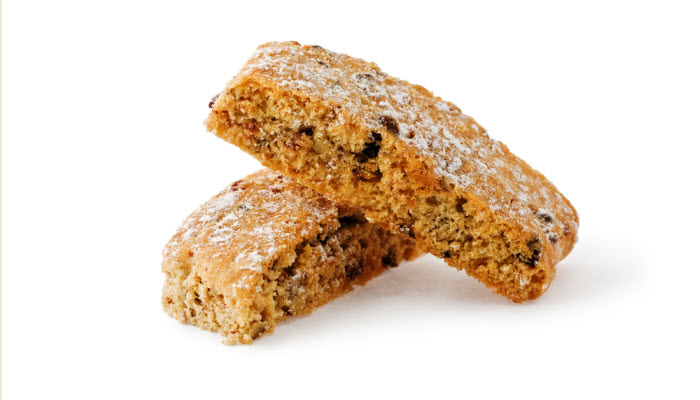 Exactly what mandel bread should be: crisp, sweet, and golden brown.
The Backstory: I met Lorraine about a year ago.  She was a fill in at a Mah Jongg game.  When you play Mah Jongg (or any game) with the same group of girls long enough, you come to  understand the true personality of the people you play with.  Honestly, there are some people you would not be friendly with on the outside.  Lorraine is not one of those people. She is funny, smart and there isn't a mean bone in her body.   More of the Backstory after the recipe…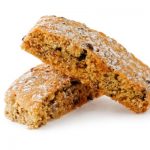 Lorraine's Mandel Bread
Brown around the edges and so crunchy, (with all those nuts!) these sweet loaf cakes are a tasty delight.
Ingredients
4

eggs, beaten

1 1/3

cups

sugar

2

tsp.

pure vanilla extract

2

cups

all-purpose flour

1/2

tsp.

baking powder

1/4 stick of butter, at room temperature

3

cups

chopped walnuts

or almonds

Confectioner's sugar for dusting (optional)
Instructions
Preheat oven to 350 degrees. In the bowl of an electric mixer, mix together the sugar and butter. Add eggs and vanilla and mix well. Add flour and baking powder and mix again. Add the nuts and mix.

Coat 3 aluminum loaf pans with non-stick baking spray. Pour equal amounts of batter into the pans. Bake for 25+ minutes or until brown around the edges. There is no definite time for baking. You have to check for the brown edges, then add a few minutes more.

When you remove pans, cakes are not completely done. Leave in pans. When cool, you can slice and place in toaster oven and brown on both sides. That will finish the cooking process. These cakes can be frozen and toasted when defrosted.

Cookies or whole loaves can be frozen by wrapping them in wax paper. After removing from freezer, cut in thin slices and place in toaster oven for extra crispiness
…The Backstory continues: When I asked her for Jewish recipes that she could share with me for the site, she gave me  quite a few.   She has  lots of recipes that she has been cooking for family and friends over the years   She did not hesitate for a second when I asked if she would share them. Her answer was a resounding "Of course I will." Her Mandel Bread recipe is scrumptious and easy to make. My daughter has already made it for her three kids and from what I understand, it was an immediate hit. I'm not surprised. Mandel Bread is a delicious cookie treat that kids and grown ups love and this recipe is versatile–you can add chocolate chips or skip the nuts (or change them up) to suit your specific tastes. Lorraine's  recipe calls for baking the bread in Aluminum loaf pans, instead of shaping them on a baking sheet. What a smart idea. Thanks Lorraine.
Please follow and like us: