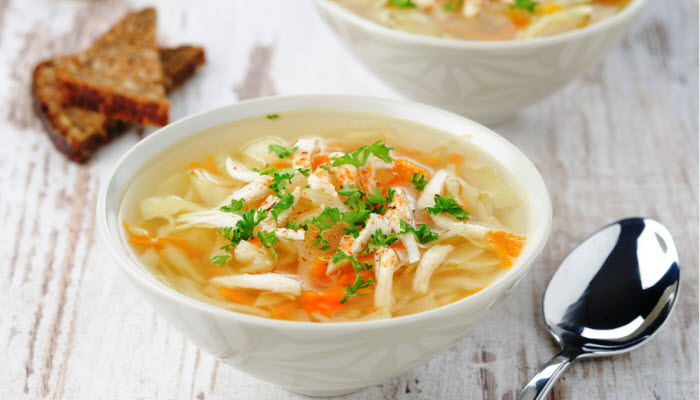 The Backstory: Lets face it: diet foods are something that we ladies are always checking out. Dieting, eating well, looking slim, and trying to look good are always on our mind, whether we're looking at clothes, workout gear or foods. We just seem to perk up whenever we see the word "diet" attached to any new food or diet craze. More of the Backstory after the recipe…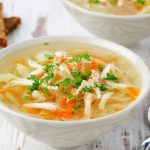 Cabbage Soup (Diet)
With just the right amount of seasoning and zip, this soup has a little bit of a tangy taste, yet, it is so refreshing. The tomato juice with all the cooked cabbage looks vary appealing when served.
Ingredients
1

46 ounce can Tomato Juice

or bottle

juice of one lemon

1

16 ounce bag of Cabbage mix

1/2

tsp.

freshly ground black pepper, divided

1/2

tsp.

garlic powder divided

1/2

tsp.

onion flakes divided

3

packets of Splenda

chopped fresh parsley for garnish (optional)
Instructions
In a large pot heat the tomato juice, on low heat . Add the cabbage and stir. Add half the seasonings. Add all of the Splenda and stir. Cover and cook on low heat for 10 minutes, stirring occasionally.

Taste to see if it is seasoned to your taste. At this point you can adjust seasonings. Cook until cabbage is soft. Garnish with fresh parsley if desired.
…The Backstory continues: Well this soup is one of those foods that has been around a long time and has been associated with a lot of diet fads, but it's not a diet fad food. Make sense? It's a healthy food that happens to be good for you and believe it or not, it's truly delicious.  My gal friend, Gloria, gave me this recipe.  I think she got it years ago from Weight Watchers. I have prepared this many times, yet I have never served it to anyone. I don't know why, because I make this even if I am not watching my weight, just consider this a regular soup.   Perhaps I have to get into the mindset that this is so good, that I should be serving it to others.
Please follow and like us: