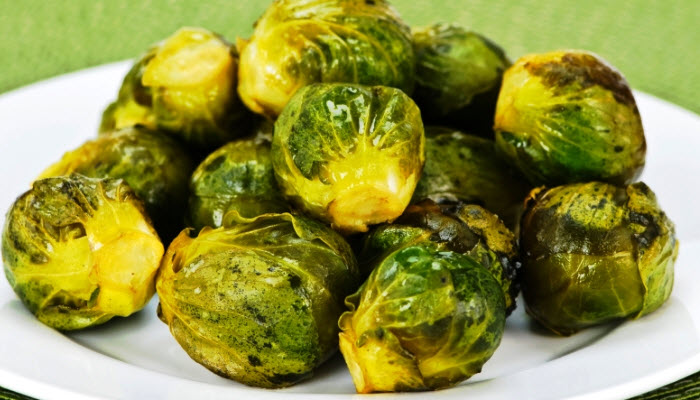 Roasted brussels sprouts are sweet, tender, and easy to prepare. This gorgeous side is perfect for holidays and everyday cooking.
The Backstory: One of my most fond memories of my son as a little boy has to do with roasted Brussels sprouts. Sounds crazy, but it's true. When my son was about two years old, he would literally follow me everywhere, which of course, I adored. If I walked to the kitchen he was right behind me. If I was cooking dinner, he wanted to cook with me. So much so, that I actually gave him his own low kitchen cabinet with plastic cups and bowls so he could play while I made meals throughout the day.  More of the Backstory after the recipe…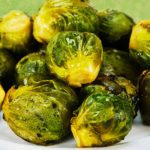 Roasted Brussels Sprouts
These delicious Brussels sprouts have tremendous flavor and are both sweet and savory from the seasoning and roasting. They are soft, juicy, and truly delicious. Perfect with chicken, turkey, and fish.
Ingredients
1 1/2

lbs.

fresh Brussels sprouts, washed and pat dried

remove the outer leaves and trim the ends

2-3

tbsp.

olive oil

1

tsp.

Kosher salt

1/2

tsp.

black pepper
Instructions
Preheat oven to 400 degrees.

Place the Brussels sprouts on a large heavy baking sheet that has a 1/2 inch rim (some kind of border so they don't run off the edges). Add the olive oil and seasoning directly on top of the sprouts and with your hands, mix everything together so the sprouts are well-coated with oil, salt and pepper.

Roast for 30-40 minutes, turning with a spatula or shaking the pan every 10 minutes or so, so the sprouts don't burn. Be sure to do this as they burn easily. Serve immediately.
…The Backstory continues: One day, I decided to set him up at the table with a plastic colander and some basic jobs to do after he asked if he could help make dinner. I was preparing Brussels sprouts and he was watching me intently. He picked one up and started to copy what I was doing, which was to tear  off the outer yellow leaves of the sprouts. Well, he loved doing this so much, that after that, we worked our way to green beans, where he would snap off the ends with his fingers, then strawberries, where he would pull off the green tops, and so on. He became the only kid I knew who actually ate mashed up Brussels sprouts at age 2. LOL.
I love these memories. To this day, he's one heck of an eater and loves his fruits and vegetables. The one thing he won't eat? Brussels sprouts. Go figure.
Please follow and like us: