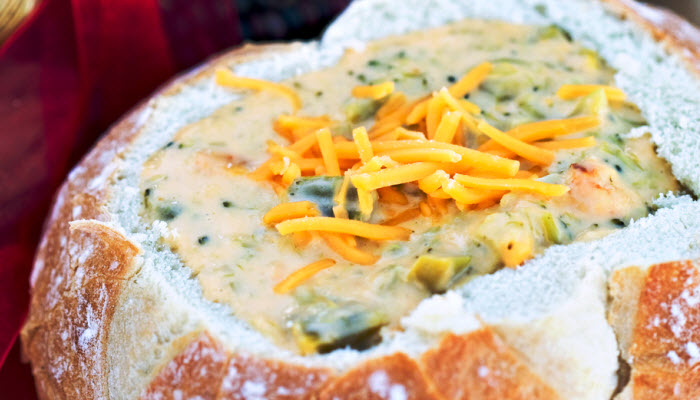 Broccoli Cheddar Soup in a Bread Bowl
Broccoli cheddar soup in a bread bowl is as decadent as you can get, and this easy recipe is Kosher and can be made ahead! YUM!.
The Backstory: I have had bread bowl soups a couple of times in restaurants and particularly when traveling in San Francisco (they are known for delicious sourdough breads and bread bowls–delish!) But what I love most about this Kosher version of broccoli cheddar soup in a bread bowl is that it incorporates two foods that I am very fond of  bread and cheese. More of the Backstory after the recipe…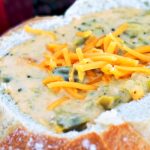 Bread Bowl Soup/Cheddar and Broccoli
Tasty bread, hearty soup--this dish is a full meal onto itself. Cheese and broccoli are a perfect match. It also makes an appealing presentation. This is comfort food at its best.
Ingredients
2

Bread Bowls

sourdough or your choice

1/4

cup

butter

or pareve margarine

1/2

small onion, chopped

1

cup

frozen, chopped broccili

2

14 ounce cans of Amy's Kosher soup

any soup that does not contain meat or poultry.

1/2

lb.

shredded cheddar cheese

white or orange, your choice

1

cup

milk

3

tbsp.

cornstarch

1/2

cup

water

1/2

tsp.

Kosher salt

to taste

1/4

tsp.

black pepper

to taste

1/8

tsp.

ground nutmeg

to taste

shredded cheddar

for garnish
Instructions
Cut off the top of the bread bowl and scope out the inside. Leave at lease an inch around the sides and a little more for the bottom. Set aside. Reserve the scoped out bread. Use it for "dunking" into the soup.

In a large pot, melt the butter and saute the onions until softened. Add the broccoli and Amy's soup, and simmer on low until the broccoli is tender. This should take about 5-10 minutes Stir often.

Add the cheese and cook until it melts. Stir often. Add the milk, salt, pepper and nutmeg. Stir to combine.

Mix the cornstarch with water and whisk until the cornstarch is dissolved. Add this to the pot, stirring constantly for a minute or two. Taste and adjust the seasonings, if necessary.

Remove and ladle the soup into the bread bowls. Serve hot.
In checking on the different ingredients that can be used to make this I learned some interesting facts. One, cheddar is normally white. A coloring additive, which is used is called Annato, and it comes from the Achiote Tree. This additive is considered fine to use. The flavor, mild, medium, sharp is related to the processing of the cheese. Who knew? Oh well, live and learn! Use the strength of the cheese that suits your taste. The color is a personal choice. As for the bread, that can be sourdough or regular white dough. Any soup base can be used. It is a matter of what you prefer. If there are leftovers, they can be easily stored in the refrigerator for a few days or mixed with noodles and baked in a casserole.…The Backstory continues:
NOTE: My recipe below is for two servings, so double or triple it if you are serving a family or a large party or crowd. Dig in and enjoy!Even though the recipe calls for 6 servings, this . I will only be actually using 2 servings.  That is why I mentioned the leftovers.
Please follow and like us: