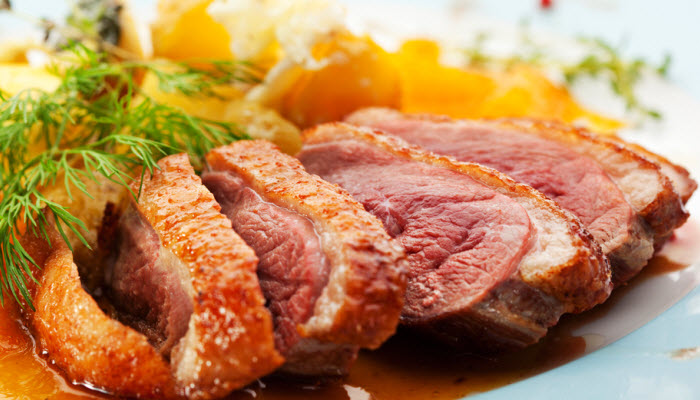 The Backstory: I haven't had roast duck in years.  Whenever I see this on a menu I immediately think of my mother-in-law, Marcia.  Marcia wasn't the best cook in the world.  She didn't have to be. For the first 40 years of her life she never cooked; that was her mother's job.  You see, my-in-laws lived with my mother-in-law's mother and her sister.  When her mother became ill, Marcia suddenly became the chief cook and bottle washer of the family. That phrase was commonly used in Jewish households.  Her skills in the kitchen were limited. She prepared chicken balls, baby lamb chops, and roasted duck parts. Dessert was always butter cookies with a cherry in the middle, bought from a local Jewish bakery. Years later, my mother-in-law gave these same cookies to my daughter and to this day, she loves them, but only from a good Jewish  bakery. More of the Backstory after the recipe…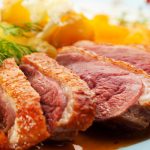 Roast Duck
The saying that "we eat with our eyes" is so true, especially when it comes to this dish. The skin is dark brown in color and very crispy looking. The taste is succulent from the oranges, garlic seasonings, rosemary and orange marmalade.
Total Time
2
hours
30
minutes
Ingredients
1

5 lb. Kosher duck, cleaned and patted dry

1/2

tsp.

Kosher salt

1/4

tsp.

black pepper

2

cloves of garlic whole, peeled

4

sprigs rosemary

1/3

cup

Burgundy wine

optional

2

tbsp.

canola or vegetable oil

1

orange, peeled and and quartered

1/2 +

cups

orange marmalade
Instructions
Preheat oven to 400 degrees. Line the bottom of a roasting pan with aluminum foil. Place a rack in the pan. Place duck on rack. Brush on 2 tbsp. of oil., on the rack. Put salt, pepper, garlic, and the orange quarters into cavity of duck. Truss with string. if using wine, pour it over the duck. Place rosemary in bottom of the pan. Roast for 30 minutes.

Reduce oven to 350 degrees and roast for another 40 minutes, basting occasionally. Turn duck over and roast for 15 minutes. Turn it back to the breast side up and roast for 30 minutes At this point, use a fork to prick the top of the duck to release some of the fat. Baste several times with pan juices. Spread orange marmalade over the duck and roast for another 10 minutes.

Remove from oven and let duck rest for 10 -15 minutes. Slice and serve.
…The Backstory continues: In all the years I went there for dinner, the only meal I had was chicken soup with noodles, corn (off of the cob), applesauce, mashed potatoes, and roasted duck parts  I can't fault her on her choices. Her son, my husband, loved this meal.    And he was her son, so that is who she had to please.  I never made chicken balls and my husband ask me to never make lamb chops.  He could not tolerate the aroma of lamb.  So, whenever I wanted lamb I had it when he wasn't home. And I sprayed and aired out the house like crazy to mask the odor.  It didn't matter, he still got a whiff of it.
As for the roast duck, this was my husband's favorite dish. He never ordered it in a restaurant.  He said this was his mother's dish and nothing could come close to it.  I hope this recipe will come close for you and your family. It is really delicious and the fresh orange and marmalade put it over the top.
Please follow and like us: