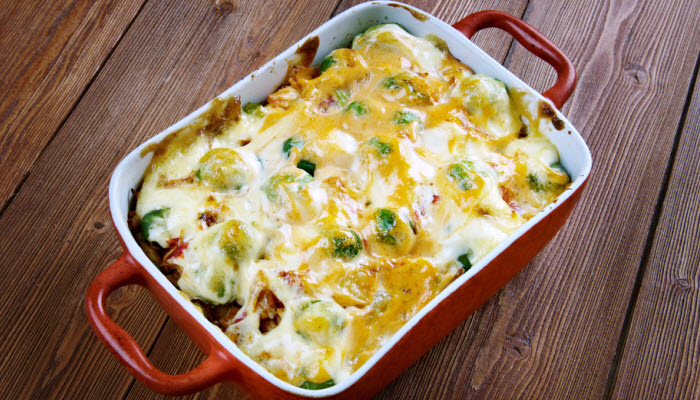 The Backstory: Recently I visited my cousin Clare. Among the many recipes she gave me one was for Chicken Divan.  I love this woman. She is funny, smart and at times, well, don't get her ire going.  She stands maybe 5 feet tall but she can take on anybody.  She's someone I also call my friend.  I asked her for any other recipes she may have to share with me. She gave me several and I will share them with you on this site.   Clare keeps Kosher and this is her version of Chicken Divan. This dish has been served at many Jewish affairs I have attended over the years. More of the Backstory after the recipe…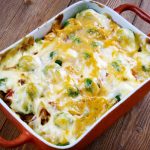 Chicken Divan
Crunchy bread crumbs are the finishing touch to this delicious main course. Beneath the topping you'll find soft tasty chicken and tender broccoli, all cooked in a delicious mushroom sauce.
Ingredients
2

large, Kosher skinless chicken breasts

bone can be left in (optional)

1

10 ounce package of frozen broccoli spears

thawed

1

4 ounce can of mushrooms, reserve the liquid.

3/4

cup

Kosher chicken broth

4

tbsp.

margarine, divided

3

tbsp.

all-purpose flour

1/2

tsp.

Kosher salt

1/4

tsp.

black pepper

1/3

cup

bread crumbs

your choice

1

tbs.

fresh parsley, chopped

1

head broccoli

clean and separate into spears
Instructions
Preheat oven to 350 degrees. In a small saucepan on low heat, melt 3 tbsp. margarine and gradually add the flour, stirring constantly. After 1 minute, slowly add the chicken broth and the liquid from the mushrooms. Stir until this boils and then add the mushrooms. Stir to combine, remove from heat. Set aside.

In a shallow 2 quart baking dish, add some vegetable oil. Arrange broccoli spears in dish. Season the chicken with salt and pepper. Add the chicken breast on top of the broccoli. Pour mixture over the chicken and bake for 45 minutes.

While this is baking, melt 2 tbsp. of margarine in a small bowl. Add the bread crumbs and the parsley and stir to combine. Sprinkle this over the casserole and bake for about 10 minutes, more. Remove from oven and let rest for a few minutes. before serving.
…The Backstory continues: Sadly, the menus at many Jewish simcha's have changed drastically over the past decade or two.  Chicken Divan is rarely served and too often, neither is chopped liver, stuffed derma and far too many more to list. They have been replaced with sushi, sliders, BBQ, and Tex Mex. They can keep them!  Where are all the delicious Kosher delicacies of days gone by? I want to know who is planning these things.
Well, here's a main course that you'll love and most likely remember. Clare says this is the easy version of the recipe. She has another one she uses where the broccoli and chicken are cooked separately before being put in the casserole. You can prepare it either way.  I opted for the fast recipe with less time in the kitchen. It is delicious. I hope you will enjoy if as much as I did.
Please follow and like us: