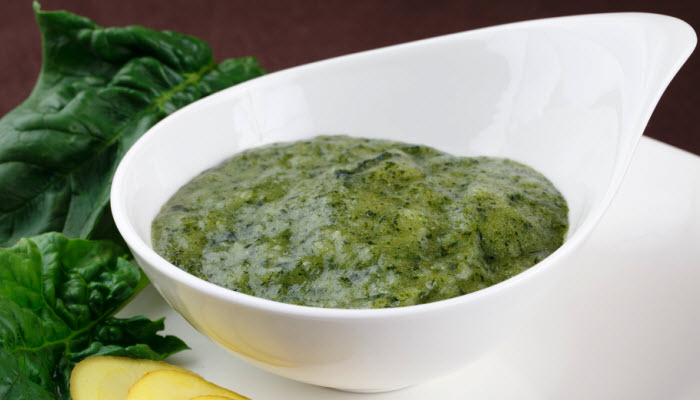 Mashed Potatoes with Spinach
The Backstory: Potatoes have been around forever and I'm sure many of us can remember our mothers and grandmothers serving boiled potatoes alongside chicken (can you say bland?) or throwing a few potatoes into a roasting pan to cook along with a chicken, brisket or a pot roast (not so bland), where the potatoes would soak up all the delicious pan juices. More of the Backstory after the recipe…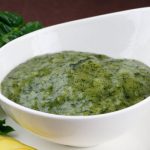 Mashed Potatoes with Spinach
These creamy potatoes get an earthy note from the fresh spinach. A hint of nutmeg is the surprise ingredient that balances the seasonings and makes this a stand out side.
Ingredients
4-6

potatoes, cut into medium chunks

1

10 ounce package of baby spinach

1/4

cup

butter

or parve margarine

1/2

cup

heavy cream

or whole milk or non dairy creamer

1

tsp.

Kosher salt

to taste

1/4

tsp.

freshly ground black pepper

to taste

1/8

tsp.

ground nutmeg

to taste
Instructions
Boil potatoes in salted water for about 15-20 minutes until tender but not mushy. Meanwhile, put spinach in a pot with a little hot water just until it wilts. Drain well and squeeze excess water from spinach with paper towels or tea towel. Set aside.

Put potatoes (make sure to drain them) in a large bowl. Add the butter, cream, spinach, pepper, and nutmeg. Using a hand blender, on low setting, blend until you get your desired consistency. Check seasonings.
…The Backstory continues:I think it's pretty fair to say that left on their own, a potato can be a pretty blah affair.  However, add fresh spinach and some seasoning to these spuds and it becomes something all together different.  Stews, chicken, and mac and cheese are comfort foods, and this side belongs in that category.
I have prepared this dish for decades, as it was always a favorite with my husband.  When I asked him if he would like meat loaf for dinner, he would reply, "what about potatoes and spinach too?".  This was a given and I was always one step ahead of him.  I had already purchased the spinach. Try this with our Classic Meat Loaf recipe for a delicious middle of the week dinner.  I know you will savor this delicious side as much as my family did.  This also goes well with other main course dishes.
Please follow and like us: