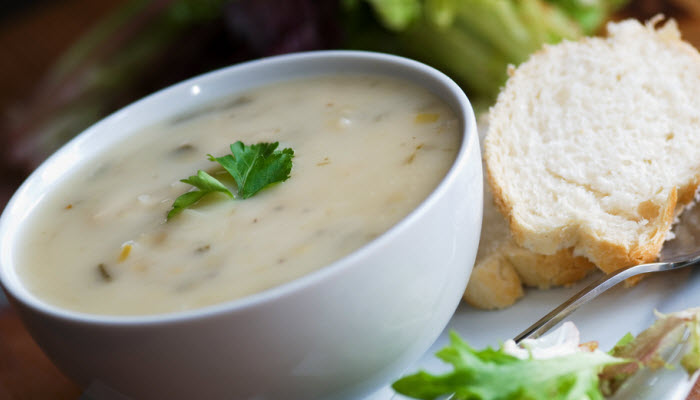 The Backstory: Recently I visited my cousin Clare's home.  She was very pleased to give me some of her recipes.  She told me that she makes this soup often. The recipe is simple. I have wanted a potato soup recipe for a very long time. You see, my mom made this soup during my childhood in the 1940's and while I was growing up in the 1950's and we kids loved it.  Yet we never asked for the recipe.  How dumb was that?   More of the Backstory after the recipe…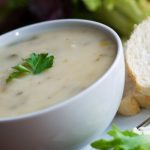 Potato Soup
Creamy and rich from the flour, milk, and butter, this soup will melt in your mouth. The potatoes, onions, and celery are cooked until they are soft and velvety. Salt, pepper, and a hint of nutmeg makes this absolutely scrumptious.
Ingredients
3

potatoes, peeled and cut into medium chunks

1

large onion, diced

1-2

stalks celery, cut into 1 inch pieces

1/2

tsp.

Kosher salt

1/4

tsp.

black pepper

1

tbsp.

butter

or pareve margarine

1

tbsp.

flour

water

the water for the rue can be substituted with 1/2 cup milk

1

tsp.

fresh chopped dill or parsley for garnish

optional
Instructions
Put the potatoes, celery, and onions in a stock pot. Cover with water. Cook until the potatoes are soft but not mushy for about 15 + minutes.

Add the butter, stirring constantly and gradually stir in the flour. Add more cold water, as needed, stirring constantly until you get the consistency you desire. There is no set measurement about how much water to use. Cook for about 3 minutes and keep stirring, until the flour mixture is incorporated . Garnish with dill.
…The Backstory continues: I looked forward to getting my cousin's recipe, but there is a difference.  My mom's soup was prepared by frying onions to an almost burnt look.  There was no milk or cream or butter in this dish.  The only things I remember seeing were onions and  potatoes. Yet it was so tasty that we all loved it.  Nothing fancy, just a few good  ingredients and some good old-fashioned H 2 O. No fancy bottled water here. I guess my hunt for mom's potato soup  recipe will continue.
Please follow and like us: