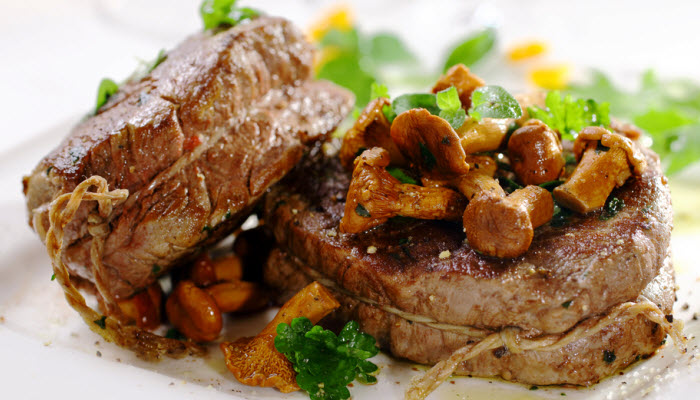 The Backstory: I am a beef eater.  Oh, I know this should be limited or completely taken out of our diet.  Well, to all of you who feel the same way about this that I do, try this recipe.  It is easy and delicious.  I don't know when I first tasted beef but I do know that beef was a staple growing up in the 1940s and 1950s. At least in my home were I was raised. More of the Backstory after the recipe…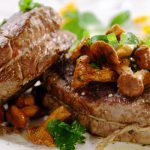 Beef Tenderloin
The steak that is used in the recipe is rich in color, brown on the outside and pink on the inside. The seasoning may be minimal but the beef is tasty in itself. Serve with mushroom sauce and bite into a slice of heaven.
Ingredients
2

lbs.

beef tenderloin, cut in to 1 inch thickness

you can use whatever steak you prefer

4-6

tbsp.

canola or vegetable oil divided

1

tbsp.

Kosher salt

1/2

tbsp.

black pepper

mushrooms

optional
Instructions
Set oven to broil ( If using a grill pan, medium heat). Sprinkle salt and pepper on both sides of beef. Brush some oil on both sides of steak. Brush oil on broiling pan. Place steaks on pan and broil for about 4 minutes on each side (for rare), 6 minutes on each side (for medium). Remove and let rest about 5 minutes before slicing.
…The Backstory continues: My dad was a steak and potato guy.   Mom being the loving wife, she cooked for dad and we kids eat everything she put on the table.  There were never any leftovers. I don't know how she was able to obtain beef, during World War II, but if there was a way, she found it. Mom cooked these steaks or veal and lamb chops the same way.  The only seasoning she used was salt and pepper. No garlic powder, no oil, nothing but salt and pepper.  She would set up an electric grill on one side of the sink.  It was about 18 inches long,  8 inches wide, and 2 inches high. It it also had a drip spout that was near the sink to catch any of the  drippings.
No fuss, no mess, and everything she made on that electric grill was fantastic.  And she never heard of grill marks.  These grills were not equipped to do that, anyway.  In 1964, my parents moved from their Brooklyn apartment to a house (also in Brooklyn) for the first time.  My sister and I insisted that my mother get rid of that old grill.  Recently my sister and I wished we had kept our mouths shut.  If she had kept the grill, there would have been a debate over who gets it. A  toss of a quarter would have solved this problem. We  have used this method on previous occasions.
This steak is delicious on its own or with this tasty Mushroom Sauce.  Either way, I'm not giving up beef. Not yet, anyway.
Please follow and like us: