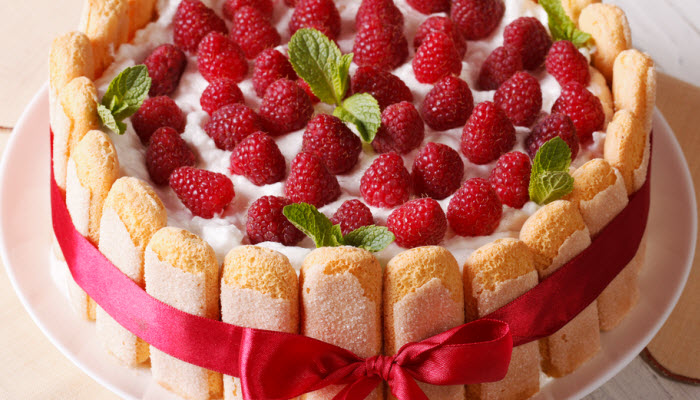 Modern Day Charlotte Russe
An old-fashioned dessert gets an elegant, modern makeover.
The Backstory: One of my favorite childhood memories is stopping off at a bakery not too far from my father's own bagel bakery in Borough Park, Brooklyn to pick up a chocolate cream pie on Friday nights, just as he closed his shop up to observe the Sabbath.  Every now and then, on our way home to Staten Island, we would make a little stop to pick up this beautiful pie–a pie that I have not seen in some 35 years, yet I can picture it so clearly in my mind's eye, right down to the chocolate cake crumbs that dotted the piped ribbon-edged whipped cream topping and the single cherry with a stem that sat smack dab in the middle of the whole glorious thing. More of the Backstory after the recipe…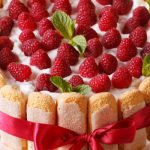 Modern Day Charlotte Russe
This show-stopped cake is light, sweet, fluffy, and absolutely gorgeous. The raspberries add the perfect fresh note to the whipped cream. Your guests will truly love this beautiful, timeless dessert.
Total Time
4
hours
20
minutes
Ingredients
For the Cake
16-18

ladyfinger cookies, slices lengthwise

1/4

cup

raspberry or orange flavored liquer

2/3

cup

water

2

envelopes

unflavored gelatin

1/4

cup

sugar

3

tbsp.

fresh lemon juice

1

10 oz. bag of frozen raspberries in syrup, thawed

2

cups

whipping cream

butter for greasing cake pan
For the Topping
1

cup

whipping cream

2

tbsp.

sugar

1

pint

fresh raspberries

mint springs for garnish (optional)
Instructions
Grease a 9" springform pan with butter. Slice the ladyfingers in half, lengthwise and sprinkle liqueur along the cut side of the cookies. Lay the cookies cut side down along the bottom of the pan. Arrange a layer of the cookies around the sides of the pan, cut sides facing in. Set aside.

In a small saucepan, mix the water and gelatin and let stand for 2 minutes. Heat the gelatin mixture on low heat until the gelatin is completely dissolved. Stir the mixture occasionally. Remove the pan from the heat and add in 1/4 cup sugar, thawed raspberries, and lemon juice. Beat with a wire whisk until foamy. Chill in refrigerator for 20 minutes until the mixture starts to become thick.

During the last 5 minutes while the raspberry mixture is chilling, in the bowl of a standing mixer or with a handheld electric beater, beat the whipping cream on high until stiff peaks form. Carefully fold the raspberry mixture into the whipped cream until just combined. Pour the entire mixture into the ladyfinger prepared pan. Refrigerate for 4-5 hours until set.

Just before serving, beat 1 cup of whipping cream in the bowl of a standing mixer or with a handheld electric beater, on high speed, gradually adding in 2 tbsp. sugar, until stiff peaks form. Spread the whipped cream over the top of the Charlotte Russe.

Decorate with fresh raspberries as desired. Dot with sprigs of fresh mint (optional). Serve immediately. You can also tie a wide satin ribbon (as pictured above) to make this a beautiful presentation cake for a wedding shower or special occasion. Just add the ribbon to a well-chilled cake and keep refrigerated until just before serving. Remove ribbon before slicing.
…The Backstory continues: In addition to the chocolate cream pie, the bakery's display case had the most beautiful pastries, cakes, and rows of small Charlotte Russe cakes. They were mini versions of the one pictured here (minus the ribbon) and they were the prettiest, pastel confections I had ever seen. I don't know why I never asked my father to bring one home; surely he would have said yes, and likely he would have bought two, as they were quite small. My father and I shared a sweet tooth then (thanks, Dad), and I live with that legacy today (as the three sizes in my closet can attest).
I remember those fluffy white clouds of whipped cream, the sponge cake slices that wrapped around the sides (now more commonly replaced with lady fingers) and usually a glazed strawberry or row of glazed raspberries that dotted the outer border of the whipped cream. I was in love.
Charlotte Russe was a popular dessert for many Jews, after it migrated from Russia to Eastern Europe and eventually, with the Jewish immigrants who made their way to the Lower East Side of New York City. I love when I still see it on delicatessen and diner menus, even if it has morphed with time.
I have made many versions of it over the years, and have played with different recipes. This one, although not true to the original with sponge cake, or in size (or as my mother repeatedly told me after reading this recipe and looking at the photo, not at all like the original, since the original Charlotte Russe of her childhood was handheld and could be pushed up from the bottom and eaten out of a little plastic cup–thank you, Mom), is an updated version of the classic, and the one I like best. It is perfect for a party or special occasion. It does take some time as the cake itself requires 4-5 hours to chill and set in the refrigerator, but it is very much worth the wait. Also, if you prefer to not use any liqueur to brush over the ladyfingers, simply heat a 1/2 cup of raspberry jam in a small saucepan and use that instead and it will work just as well.
I hope you enjoy this recipe. It really reminds me so much of walking into that bakery with my father, some 35 years ago and having yet another special moment with him.
Please follow and like us: