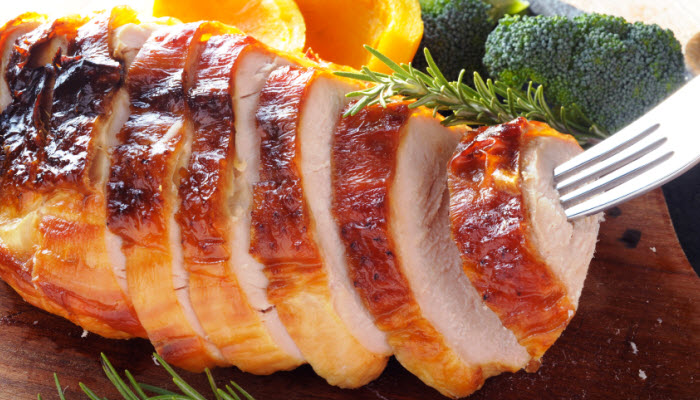 Roast Citrus Turkey Breast
Roast citrus turkey breast is a savory showstopper for Thanksgiving. This gorgeous dish cooks quickly and delivers juicy meat and luscious pan gravy.
The Backstory: Roast citrus turkey breast is one of the easiest ways to prepare turkey and sometimes my go-to for when my husband and I are having a low-key Thanksgiving (read: the kids are with their other parents on a given year and it's just the two of us) and I opt to prepare a breast and not the whole bird. Despite the bad rap turkey breasts get for being dry (there's that white meat thing), it's very easy to make a moist, juicy breast, a delicious pan gravy, and pair it up with homemade cranberry sauce, stuffing, sweet potato and marshmallow casserole and before you know it–you've got yourself a mighty fine Thanksgiving meal. And let's not forget the popovers! More of the Backstory after the recipe…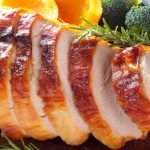 Roast Citrus Turkey Breast
Juicy and tender white meat has a hint of sweet citrus flavor and plenty of savory seasonings for an all out delicious taste sensation. Top with hot pan gravy for a truly spectacular meal.
Cook Time
2
hours
30
minutes
Total Time
2
hours
50
minutes
Ingredients
1

6 pound Kosher fresh turkey breast

at room temperature (for approx. one hour)

Kosher salt

freshly ground black pepper

paprika

1/2

cup

unsalted butter

at room temperature

3

tbsp.

olive oil

1

sprig

rosemary leaves, finely chopped

3

sprigs

fresh thyme

1/4

cup

sage leaves, finely chopped

1

large onion cut into medium chunks

1

tsp.

lemon or orange zest

1/2

onion, quartered

1

can

chicken stock or broth
Instructions
Preheat oven to 325 degrees. If bird comes with netting on it that can be uses for roasting, wash bird thoroughly with netting on and pat dry. Otherwise, wash bird and pat dry and then use kitchen twine to tie up breast to keep it rolled together. Place on a cutting board or clean surface to season.

Season breast with Kosher salt, pepper and paprika. Place roast in pan.

In a small bowl, mix together the olive oil and butter. Using your hands, rub the mixture all over the roast, including the bottom of the bird.

Place onions and lemons or organges around the roast. Add rosemary, sage and thyme and thyme around the breast.

Pour half a can of chicken stock or broth on the bottom of the pan. Cook for 2-3 hours or until internal temperature is 165 degrees. Baste every 30-45 minutes.

When done, remove roast and let sit on cutting board for 15 minutes before carving. Cover with a piece of aluminum foil to keep warm. In the meantime, prepare the gravy.

Remove and discard the herbs, fruit and any large pieces of onion. Skim off any visible fat and discard. Place the roasting pan on the stove over a burner on high heat. Using a wooden spoon, scrape up the brown bits on the bottom of the pan. Use the remaining chicken stock if needed to make additional gravy. If gravy is too thin, add 2 tbsp. flour to a small cup with 2 tbsp warm water and dissolve completely. Whisk into the hot gravy until completely dissolved and keep stirring until you get desired consistency.
…The Backstory continues: But perhaps one of my favorite reasons for making a roast citrus turkey breast (aside from the fact that I'm not a dark meat kind of girl) is that it takes no time at all. Once you've seasoned the breast and placed it in the roasting pan with some aromatics and slices of orange or lemon, the oven pretty much does the rest of the work. About 2-3 hours later depending upon the size of the breast, you've got yourself a delicious dinner. No fuss, a little basting here and there, and that's about it.
Please follow and like us: