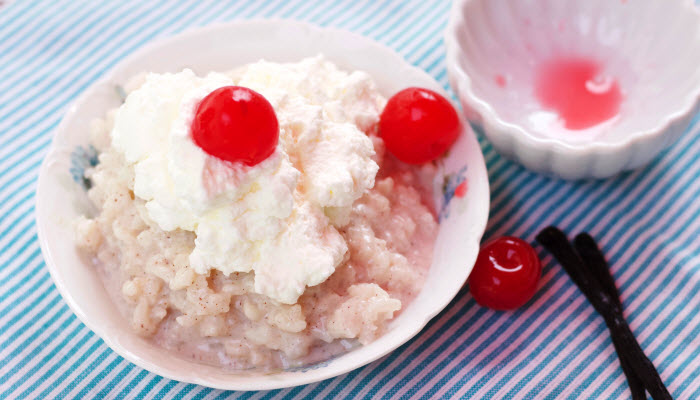 Low-fat rice pudding is sweet and creamy with notes of vanilla and cinnamon. This yummy classic cooks in 20 minutes and tastes just like the original.
The Backstory: This recipe is one of those that happened by accident. I was clearing the dinner dishes with my husband and had a fair amount of leftover white rice. I typically uses Japanese white rice, which I happen to love, because it cooks up thick. but light and fluffy every single time. I had made a simple dinner of grilled salmon (husband manning the grill) and a salad, and thought, what can I do with the rice? I decided to wing a low-fat version of rice pudding and hope for the best. I had fat-free milk in the house, so low-fat was my only option, and I figured if all else fails, at least I tried. More of the Backstory after the recipe…
Low-Fat Rice Pudding
Creamy, delicious, and just like its original full-fat version, our low-fat recipe is full of rich flavors and satisfying textures. The vanilla and cinnamon notes are warm and comforting and will remind you of desserts from your neighborhood diner.
Ingredients
2

cups

leftover white rice

(I used Japanese white rice but any white rice will do)

2

cups

fat-free milk

3 1/2

tbsp.

sugar

1/2

tsp.

Kosher salt

1/2

tsp.

ground cinnamon

1

tsp.

pure vanilla extract
Instructions
Combine the rice, milk, sugar, and salt in a medium saucepan and blend everything together. Cook over medium heat for approximately 20 minutes, until the mixture thickens and most of the liquid has evaporated.

Remove from heat. Stir in cinnamon and vanilla. Cool on wire rack and serve either slightly warm or refrigerate and serve chilled.
…The Backstory continues: The results turned out surprisingly delicious! Better yet, the entire thing was cooling on my counter in 25 minutes. Not bad. I can honestly say that I will make this again exactly the same way, and the only thing I would add is the addition of fresh whipped cream. Hey, a girl's gotta have some indulgence somewhere, LOL.
Enjoy.
Note: You can also go all-out and make this delicious dessert extra rich and creamy simply by using whole milk. I did so recently, and let me tell you–it was totally worth every last calorie. This version is rice pudding, NY diner style, and trust me–you'll feel transported back to your childhood.
Please follow and like us: