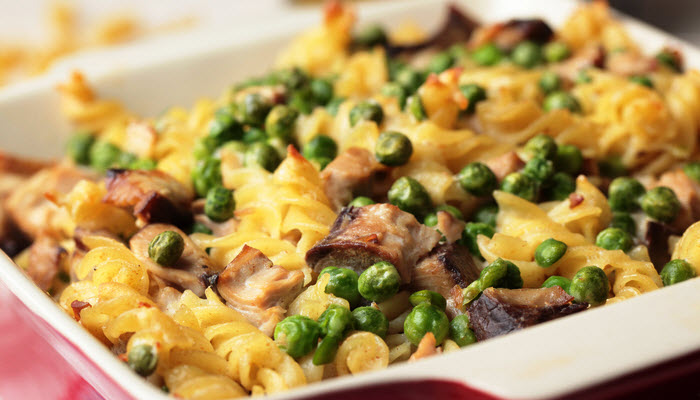 Tuna noodle casserole is as delicious now as it was back then (circa 1960's) and it's a perfect dinner to whip up when you're short on time but have basic pantry ingredients on hand.
The Backstory: This classic old-fashioned tuna noodle casserole has been around for as long as I can remember. It was one of those recipes that every Jewish mother and grandmother had in her stockpile and I'd have to go back to the early 1960's when I first remember seeing the actual recipe. For awhile. the Campbell's Soup company was famous for it (and probably still is) and I think I even made my first tuna noodle casserole using their recipe, after sending away for their recipe book. Maybe it cost twenty-five cents, if that, plus a couple of soup can labels. Can you imagine? More of the Backstory after the recipe…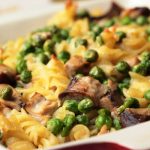 Tuna Noodle Casserole
This is classic comfort food at its best and the creamy taste will remind you of your childhood. Add a salad and some fresh Challah or crusty rye for dipping, to round out the meal.
Ingredients
1

lb.

wide egg noodles or spiral pasta

follow package directions

1

tsp.

canola oil or extra virgin olive oil

1

cup

fresh white button or portabella mushrooms

wiped clean and halved

2

cans of solid white tuna in water, drained and flaked

1

10.5 can cream of mushroom soup

1/2+

cup

Whole milk

1

cup

frozen peas

thawed, optional
Instructions
Preheat oven to 350 degrees. Butter a casserole dish. Set aside.

In a small saute pan, heat oil on medium-high heat. Saute mushroom until tender, about 5 minutes. Set aside.

Boil noodles in salted water and drain. Set aside in a deep bowl. Add the tuna, soup, and milk. Gently combine. If it is not creamy enough, add a little more milk.

Add sauteed mushrooms and pour into casserole dish and bake uncovered for 20 minutes. Serve hot.
…The Backstory continues: These days, tuna noodle casseroles seem to have fallen out of favor, but they are absolutely a tried and true delicious dish. You can jazz them up with crispy fried onions, fresh veggies tucked inside (for the kids, of course)…broccoli, carrots, whatever you have on hand will do. I still use peas, as the traditional recipe calls for, but I also saute fresh mushrooms for added mushroom flavor and texture. I also like to switch up my choice of noodles from time to time. Sometimes I use traditional wide egg noodles like my mother used  and sometimes I use a heartier noodle (as in the photo above) and opt for a spiral pasta which allows the sauce to really grab on. Feel free to use anything you like to make this classic dish your own. The noodles are wonderful when they get a little crisp on top, and let's face it, who can resist pulling those off the top?
Add a fresh green salad, some crusty rye bread or fresh Challah, and you've got a throwback meal from yesterday that still holds up. In my book, anyway.
Please follow and like us: