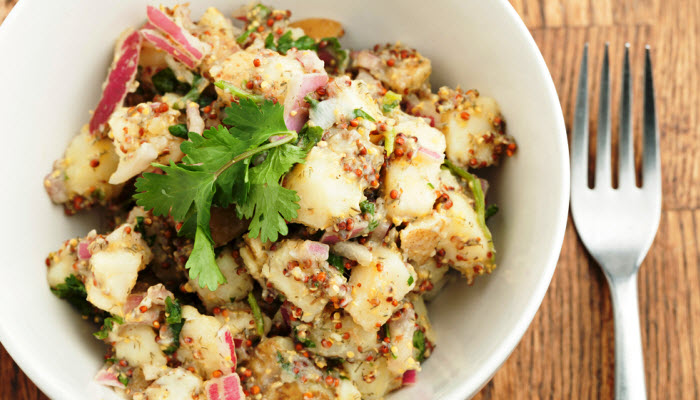 Potato Salad with Vinegar
Potato salad with vinegar is a delicious and tangy side for burgers, chicken, hot dogs, and sandwiches. This zesty dish is ideal for Kosher cooking.
The Backstory: This potato salad with vinegar is an ideal side dish for anyone who is not a lover of mayo and also as an accompaniment to Kosher meals. I know it's not a traditional preparation, but this is as tasty as potato salads that are loaded down with mayo and until you've tried it, you won't believe what you've been missing. More of the Backstory after the recipe…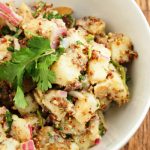 Potato Salad with Vinegar
As you mix different ingredients into the basic white potatoes they will give off a festive look. When all the seasonings are combined your taste buds will get a delightful treat.
Ingredients
2 1/2

pounds

small red potatoes

scrubbed and unpeeled

1-2

tbs..

vegetable oil

to taste

2-3

tsp.

red wine vinegar

or whit wine vinegar---to taste

1-2

tbs.

sugar

to taste

1/2

tsp.

whole grain mustard

to taste

Kosher salt and black pepper

to taste.

1/4

cup

chopped peppers

red, green, optional

1/4

cup

red onions or scallions

1/4

cup

diced celery

1/4

cup

grated carrots
Instructions
Boil the potatoes, until fork tender, about 20 -30 minutes. Drain, let cool and then cut them in chunks. Put in a bowl and set aside. When they are still warm, but not hot add the oil. Toss.

Add some of the vinegar, mustard, salt, black pepper, sugar. Toss and adjust the seasonings. Add the onions, chopped peppers, celery, and carrots. Combine. Adjust the seasoning again.

This can be served at room temperature or refrigerated until ready to serve.
…The Backstory continues: My daughter loves this recipe because it's so versatile and everything that's added in to the basic recipe is basically an add-on. You can change it up at your whim and you can also alter the flavor with different flavored vinegars such as champagne vinegar which gives it a really nice kick, if you happen to have it on hand and want to swap it out for the red wine vinegar in this recipe.
The best part about this recipe is that you have the flexibility to chop up and add whatever veggie or herb happens to be on hand in your fridge.  Serve this when you are having the gang over for a cookout, or as a side for a sandwich. Use your imagination, this is so basic that it goes with  just about anything you are preparing. Add your own magic touch. Enjoy!!!!!!!!!!!!
Please follow and like us: