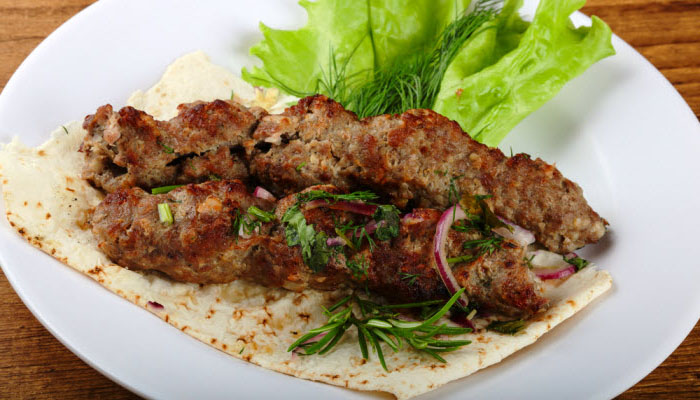 Our delicious lamb kabobs are savory, tender and grilled to perfection. Try our grilling trick to ensure even cooking and doneness.
The Backstory: Lamb Kabobs are in a class that I call 'warm weather' foods.  I believe that kabobs should be cooked on an outdoor grill. Oh, I know that technically they can be broiled in the oven, but somehow they lose that outdoor smell and what I think of as foods that are traditionally prepared only during long, hot summer months. Then again, if you walk around New York city any time of year (even when there's two feet of snow on the ground), one of the amazing things you're bound to encounter is the tantalizing smell of grilled kabobs wafting from the many street cart vendors that dot the city's streets, so maybe I'm the crazy one to classify kabobs as just a summer grill food. But I digress. More of the Backstory after the recipe…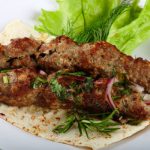 Lamb Kabobs
With this tasty marinade Lamb Kabobs are fork tender. The zing from the seasonings just puts it over the tops.The veggies compliments the lamb. What a perfect pairing.
Total Time
2
hours
25
minutes
Ingredients
2

lbs.

Kosher Lamb

cut into 1 1/2 cubes

2

cloves garlic chopped

1-2

tsp.

dried oregano

1 1/2

tbsp.

sugar

1/2

cup

canola or olive oil

Kosher salt and ground pepper

to taste

1/2

cup

white vinegar
Instructions
Put the lamb into a deep bowl or baking dish. Set aside In a bowl combine garlic, oregano, sugar, oil, white vinegar. Blend well. Taste, add salt and pepper, to taste. You might have to adjust other seasonings.

Pour the marinade over the lamb. Cover and refrigerate for at least 2 1/2 hours. Baste the lamb occasionally.

Reserve the marinade. Heat the grill and and brush some oil on the grill. Put the lamb on metal skewers. Place on grill and bush the lamb several times with the marinade. The cooking time varies but it should take about 15 minutes.
…The Backstory continues: What I love about kabobs in general is that they always look as if you took so much time to carefully assemble the ingredients: the tender chunks of meat, the colorful vegetables, and then skewered them just so, before putting them on the grill. And you can change things up with veggies and seasonings, and of course, different marinades. There really is so much versatility in the good old kabob, that even as I write this, I'm realizing that perhaps I haven't ever given it proper justice until now.
There are tricks to grilling your kabobs to perfection so that all items on your kabob are evenly cooked. What I like to do is to grill all the lamb on separate skewers and the veggies and peppers on their own skewers. Yes, it's  a little unconventional, but it does ensure even cooking. I simply give each ingredient its own skewer.  Following this trick also makes sure that everything is ready at the same time.
Note: I have also served the lamb with potato salad and baked beans for a delicious bbq meal. You can prepare Kosher potato salad for a Kosher meal with our delicious recipe right here.
Please follow and like us: