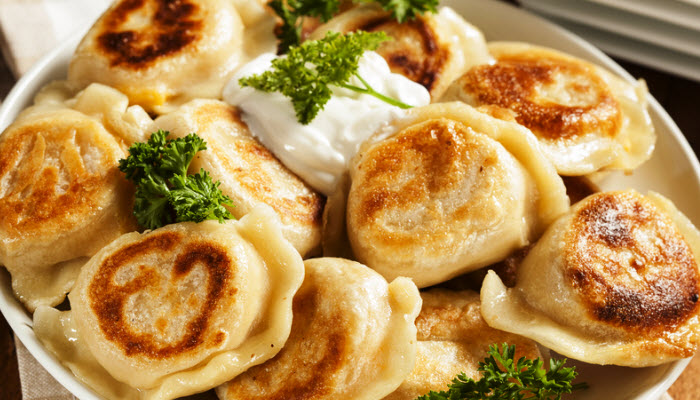 Potato and Onion Pierogies
These delicate potato and onion pierogies are savory, tender, and positively addicting. You won't be able to stop at one so make a double batch!
The Backstory: This recipe for potato and onion pierogies was given to me over 50 years ago by one of the girls I played Mah Jongg with. Unfortunately she is no longer with us, but her memory lives on in this dish. These delicious dumplings are tasty pockets of heaven. They originated in Eastern Europe.  Many countries claim them as their own, but who cares? I'm just glad that they were brought to our shores for us to enjoy. More of the Backstory after the recipe…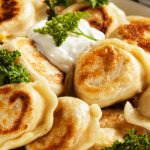 Potato and Onion Pierogies
These savory dumplings are absolutely scrumptious whether pan fried or boiled. They are absolutely addicting and make perfect party appetizers when served with sour cream and a sprinkling of zesty green onions.
Total Time
1
hour
50
minutes
Ingredients
2

cups

flour

1

large

egg

1

tsp.

Kosher salt

3/4

cup

tepid water

2

lbs.

potatoes, unpeeled

2

tbsp.

minced onions

1+

tbsp.

butter

8

ounces

farmer cheese

Kosher salt and pepper

to taste

parsley

to garnish

chopped green onions and sour cream for serving
Instructions
Boil potatoes until tender. Remove and let cool. Peel and mix potatoes using a fork or ricer. Add butter, farmer cheese, and salt and pepper, to taste. Set aside.

For the dough, put flour in a large bowl and make a well. Add the egg, salt and pepper, and a small amount of the tepid water. Knead the dough. If more water or flour is needed, add a little at a time. Dough should be smooth and not too wet or to dry.

Wrap dough in plastic wrap and place in the refrigerator for 30-60 minutes. Remove and divide into two pieces. Roll out one piece on floured board, to 1/8 of an inch thick. Using a glass, cut out dough circles.

Put some filling into the middle of each dough circle. Fold in half and pinch edges together, If not using now, these can be frozen. Place on a sheet pan that is lined with wax paper. When firm remove from freezer and store in a plastic bag for up to 4 months.

At this point you can decide to pan fry the pierogies in a large frying pan with vegetable oil on medium-high heat or boil them in salted water. Pan fried pierogies will give you a deliciously crisp outer layer and bite, like the picture you see above, and boiled pierogies will have the texture of steamed Chinese dumplings or boiled kreplach. Both are absolutely delish!

To biol the pieorigies, add 8-10 cups of water to a large stock pot boil water and add a little salt. Take pierogies out of freezer and place into the boiling water. When they float to the top, reduce heat to a simmer and cook for 5+ minutes more. Check one to make sure that it is done.

To pan fry them, heat 2-3 tbsp. of canola or vegetable oil in a large frying pan on medium-high heat. Add the pierogies and let brown on each side for a few minutes, then then flip to brown on the other side. Watch to make sure they don't burn as they will cook up pretty quickly.

Garnish with parsley and serve with sour cream and chopped green onions.
…The Backstory continues: The yummy filing is usually made with potatoes and onions.  Pierogies are so versatile that they can be found at the fanciest buffet or served at home for dinner to your family. Pierogies can be filled with a variety of foods from meats to vegetables and they can be boiled, steamed, and fried.  If you do fry them, they are delicious served with chopped green onions.
My dad had a cousin who was a fabulous cook, she made the best pierogies I ever had. My sisters and I always looked forward to her cooking. No matter what she prepared, these dumplings were my favorite. When ever I have these now,  my memories goes back in time to those wonderful days of yesteryear. Now,  it is your turn to make some delicious memories for your family.
Please follow and like us: