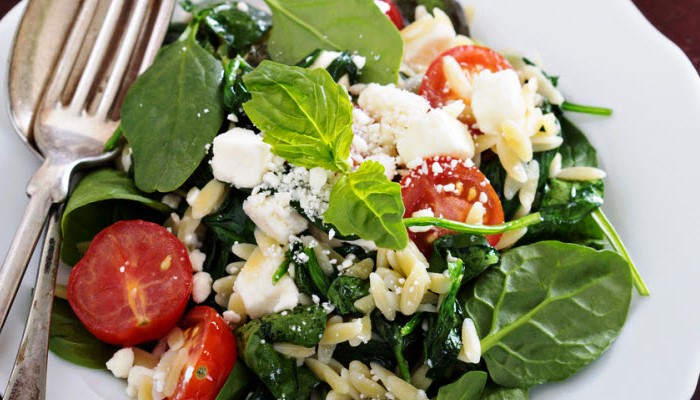 Orzo salad is a savory side or lunch flavored with zesty herbs, feta, crunchy almonds, and sweet tomatoes. This colorful dish is a perfect buffet go-to.
The Backstory: Truth be told, I was first introduced to orzo when I was a Weight Watchers member (which I was at least 3 or 4 times over a period of 20 years). Yes, the diet works if you follow the plan. The last time I joined, I finally did adhere to it and I owe this to a wonderful group leader who gave me enough discipline to follow thru.  One of things I discovered was orzo, which looks like rice but is actually a small grain pasta that is widely used in Mediterranean recipes.  More of the Backstory after the recipe…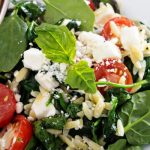 Orzo Salad
Looks like rice, but it is actually a pasta. The added ingredients gives it a colorful appeal. Seasonings brings out the taste of all the veggies and whets your appetite for more.
Ingredients
orzo

use as much as needed for 4-6 servings

3

cups

spinach

or arugula

1/2

cups

blanched broccoli

1/2

cups

red or green bell pepper, chopped, and seeded

or any peppers of your choice

1/2

tsp.

white wine vinegar

to taste

1/2

tsp.

fresh lemon juice

to taste

Kosher salt

to taste

black pepper

to taste

6+

tbsp.

feta cheese

2

tbsp.

slivered almonds (optional)

walnuts or your choice of nuts

1/2

cups

small tomatoes, cut into quarters

or cherry tomatoes
Instructions
Cook orzo according to package directions. Drain and set aside. Place the salad greens into a deep serving dish. Gently place the orzo on top of the greens.

Place all the vegetables in a separate bowl and set aside. In a small bowl, whisk together the white wine vinegar, lemon juice, salt and black pepper, Pour over veggies to make sure everything is well-coated. If using almonds, add them now and toss.

Gently fold the veggie and almond mixture into the greens and orzo. Sprinkle the crumbled feta on top. Serve with crusty bread. This is a perfect side dish or light lunch.
…The Backstory continues: I played around with so many different salads and recipes during my WW days, and fell in love with this recipe that I concocted using so many different versions of WW recipes plus my own personal preferences. Feel free to doctor it up with any salad vegetables and herbs you have on hand, and of course, a sprinkling of nuts or cheese adds a little wow factor. Keep in mind that if you're planning a Kosher meal, there's cheese in this recipe, so it will work for a dairy meal, but not for one where there is meat. But this is easy enough to change up.
This salad works beautifully on a buffet, especially with sturdy veggies like broccoli (in my recipe below) or cauliflower, carrots, cucumbers, etc. It's truly delicious and I hope you will enjoy it.
Please follow and like us: