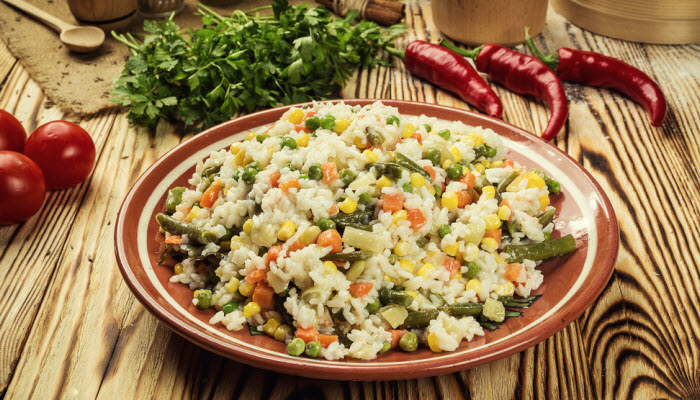 Easy rice and orzo makes a perfect side dish for fish, chicken or beef. This simple dish absorbs the flavors of herbs, broth, and veggies.
The Backstory: Rice and orzo is a combination of pasta and rice. This delicious side dish recipe was given to me by my friend Lorraine. She and I met playing Mah Jongg. We clicked immediately. When I told her that my daughter, Jodi was creating this website, she gave me so many delicious recipes that I've posted for all of you including Rice Stuffed Chicken and Purple Plum Torte among others. More of the Backstory after the recipe…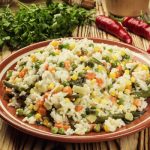 Easy Rice and Orzo
Between sauteing and steaming, this dish has a lovely soft texture. The added seasonings only enrich it and any vegetables you add deliver crunch, brightness and extra flavor.
Ingredients
1

cup

long grain rice, wash rice

or use enough for 4-6 servings

orzo

use enough for 4-6 servings

1/4

cup

vegetable oil

use enough to cover bottom of a skillet

Kosher salt

to taste

fresh parsley, chopped

to taste or any herb of your choice

1/2

cup

frozen corn, thawed or fresh corn on cob, cooked

1/2

cup

frozen peas, thawed

1/2

cup

frozen carrots, thawed, or fresh, steamed

2

cups

boiled water
Instructions
In a large sauce pan, heat oil over medium heat and add the orzo. Lightly brown the orzo, stirring often. Add the rice and then the water. Stir to combine until everything is well blended. Add the salt and cover and cook on low flame for 20+ minutes, stirring often.

While the orzo and rice cook, prepare your veggies. If using frozen veggies, either run under warm water to thaw (place in a strainer and keep rinsing until veggies thaw and separate easily with your fingers) or steam fresh veggies and drain well..

When rice and orzo is soft, gently mix in the vegetables. Adjust seasoning to taste and stir. Season with parsley and serve hot.
…The Backstory continues: Easy rice and orzo has been a staple in her home, where she was raised by parents who were Syrian immigrants in the Middle East. Well actually her mom hailed from Palestine, her dad from Egypt.  These recipes were handed down to her mom from her family.  Yet the recipes from these three regions were preserved for future generations. Lorraine has also used a Syrian cookbook that contained some of the recipes that she prepared for her family and guests. She told me that this makes a great vegetarian dish, if you steam or saute different veggies.  She also suggested serving this with meatballs, as well as chicken or fish. Since rice and orzo is so versatile, it's a meal you can prepare making up your own recipe. This makes a delicious side dish.
As the years went by, Lorraine rarely spent time in the kitchen, whipping up her magic. She passed down her recipes to the next generation of her family. Now some of her dishes are listed at The Jewish Kitchen for future generations. Thanks Lorraine.
Please follow and like us: