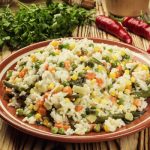 Easy Rice and Orzo
Between sauteing and steaming, this dish has a lovely soft texture. The added seasonings only enrich it and any vegetables you add deliver crunch, brightness and extra flavor.
1

cup

long grain rice, wash rice

or use enough for 4-6 servings

orzo

use enough for 4-6 servings

1/4

cup

vegetable oil

use enough to cover bottom of a skillet

Kosher salt

to taste

fresh parsley, chopped

to taste or any herb of your choice

1/2

cup

frozen corn, thawed or fresh corn on cob, cooked

1/2

cup

frozen peas, thawed

1/2

cup

frozen carrots, thawed, or fresh, steamed

2

cups

boiled water
In a large sauce pan, heat oil over medium heat and add the orzo. Lightly brown the orzo, stirring often. Add the rice and then the water. Stir to combine until everything is well blended. Add the salt and cover and cook on low flame for 20+ minutes, stirring often.

While the orzo and rice cook, prepare your veggies. If using frozen veggies, either run under warm water to thaw (place in a strainer and keep rinsing until veggies thaw and separate easily with your fingers) or steam fresh veggies and drain well..

When rice and orzo is soft, gently mix in the vegetables. Adjust seasoning to taste and stir. Season with parsley and serve hot.