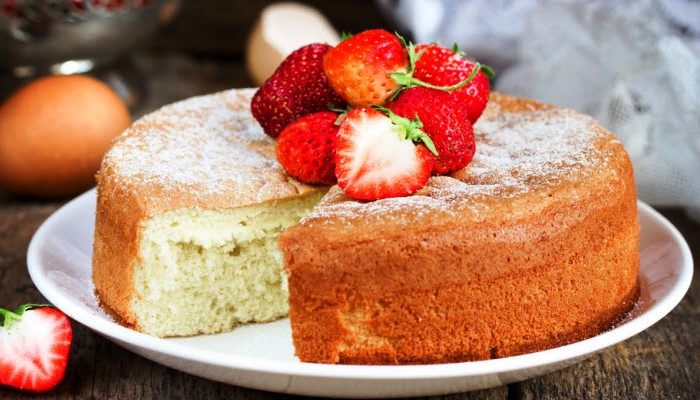 Our Passover sponge cake is flourless, lemony, and light and the perfect dessert for your Seder table.
The Backstory: What would Passover be without our beloved (but often overlooked) sponge cake? Well, if you ask me (the daughter of a baker, of course) Passover sponge cake is under-rated. Made well, it is actually quite delicious, light, flavorful and full of texture. The inside can be moist and fluffy while the top can have an almost meringue-like chewiness to it (which I happen to love). The trick is in having  a moist cake and one with really good flavor.  More of the Backstory after the recipe…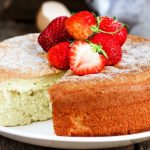 Passover Sponge Cake
Light, spongy, and with hints of lemon and vanilla, this melt-in-your-mouth cake makes a beautiful presentation at Passover (or anytime) and is truly delicious. Top with fresh berries for an absolutely beautiful holiday dessert.
Cook Time
1
hour
30
minutes
Total Time
1
hour
45
minutes
Ingredients
6

eggs, separated

1 1/3

cups

sugar

1/2

cup

hot water

juice of one lemon

zest of one lemon

1/2

tsp.

pure vanilla extract

1/2

cup

potato flour

1/2

cup

matzo cake meal

1/2

tsp.

Kosher salt

strawberries for garnish (optional)

1/2

cup

Passover Confectioner's sugar for dusting (optional)
Instructions
Butter (or spray with non-stick spray) and flour either a tube pan or an 8-inch round cake pan that is 3" high. Line pan with parchment paper and butter or spray the parchment with non-stick spray. Preheat oven to 350 degrees.

In a large bowl, beat the egg yolks and sugar together until light. Stir in the hot water, vanilla, lemon juice and zest. Set aside.

In a separate bowl, combine and sift together the flour and cake meal. Add to the wet ingredients.

In an electric mixer or with handheld mixer, beat egg whites and salt until whites are stiff. Gently fold into the batter.

Pour batter into prepared pan.

Bake for 90 minutes. Remove from oven and invert pan on wire rack (turn cake upside down while still in pan) and allow cake to cool in pan for 10 -15 minutes before removing. Let cake cool for 1 hour before serving.

Dust with Passover Confectioner's sugar and top with fresh strawberries before serving.
Passover Confectioners Sugar
Place 1/3 cup granulated sugar, and 1/2 teaspoon potato starch in a spice grinder and grind until it becomes powdery. This can be stored in an air tight container, at room temperature for up to 1 month.
…The Backstory continues: That's where this recipe comes in. A little lemon zest, a hint of vanilla and just the right amount of egg whites to make that slightly chewy top on the cake, my go-to holiday sponge cake. Truth be told, it's perfect all year round. I like to top mind with a few whole strawberries (as pictured) and some fresh whipped cream, which is easy to make.
Simply add some whipping cream to your mixer, beat on high until stiff peaks form, and add in a teaspoon or two of sugar at the end. Voila…perfect dessert for the Seder or anytime you feel like making a light, delicious cake.
Please follow and like us: