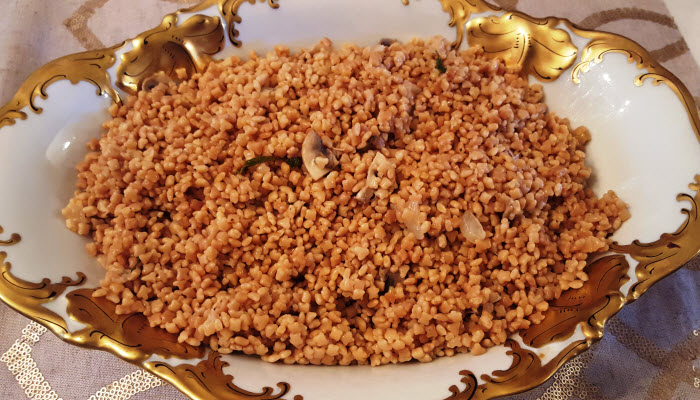 Golden noodle barley is an old-fashioned, side dish that's perfect with fish, beef, or chicken, featuring comfy flavors that will take you back in time.
The Backstory: Barley has been around for more than 13,000 years. The area where barley was found is mainly in the Israeli – Jordan  region. It has been used in various ways over the centuries.  The grains were strong enough to be made into mats. Sounds incredible. Which makes you wonder, how did "they" do that?  What method did they employ to gather enough grain and work it into a useful item? More of the Backstory after the recipe…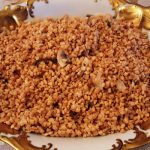 Golden Noodle Barley
This delicious, traditional side dish is a perfect accompaniment to baked chicken, turkey, pot roast or any savory main course. Sauteed onions and mushrooms give it delicious depth of flavor.
Ingredients
1

medium

onion, diced

1

12 oz package of noodle barley

1

cup

fresh mushrooms, sliced

5

tbsp.

canola or vegetable oil

1

tbsp.

chopped fresh parsley

1/2

tsp.

Kosher salt

1/4

tsp.

black pepper

4-6

cups

boiled water
Instructions
Boil 5 cups of water in a medium pot.

Heat oil in a deep pan on medium heat and saute onions and mushrooms until soft and golden brown. Add noodle barley and stir until all ingredients are well combined and until barley is lightly browned, approximately 3 minutes. Do not let barley burn.

Add a ladle of the boiling water to barley mixture and stir. Repeat this process until the water covers the barley; if not, add more water until barley is covered. Add salt and pepper to taste and add the parsley. Reduce heat to low.

Cover and cook for 10 minutes, stir often, until barley is soft and water is absorbed, stirring occasionally. Taste for seasonings and adjust if necessary.
…The Backstory continues: Barley is also used to make beer and other distilled beverages. Those ancient people were intelligent enough to incorporate it into their every day lives.  In researching the history of barley I came across a very interesting fact. Barley is used to make malt, which is considered a natural sweetener.  My husband used malt as an ingredient (in place of sugar) in the preparation of making his hand-rolled bagel dough. Who knew?
I have been eating noodle barley as long as I can remember.  When my mom replaced her famous mashed potatoes with her delicious noodle barley, I always considered it a special treat.  This side dish can be served alongside any of your favorite main dishes.
Please follow and like us: