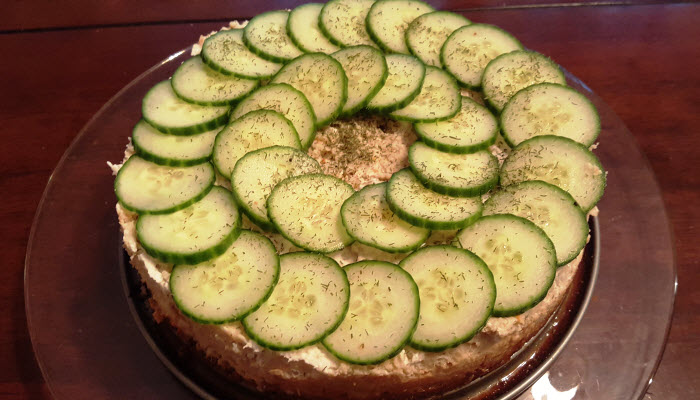 Layered Gefilte Fish Torte
This layered gefilte fish torte is an elegant take on the old classic. It's easy to make and tastes as good as it looks.
The Backstory: There are hundreds of variations of this classic, Jewish first course but this layered gefilte fish torte literally takes the cake (torte?).  This past Passover, (2016)  I celebrated the first Seder night at the home of my daughter's  in-laws, Rabbi and Mrs. Joel Barron, just outside Boston. Funny story: I actually grew up with my daughter's mother-in-law in Brooklyn, and when I say "grew up with", I mean, we literally went from kindergarten through high school together and lived only three or four blocks away from each other, yet we never met until our children met in Boston and later married. Go figure. Now that's some Jewish geography! More of the Backstory after the recipe…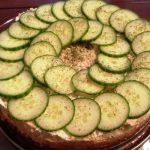 Layered Gefilte Fish Torte
A classic first course gets a makeover with a layered technique as salmon and gefilte fish come together for a light and delicious take on an old favorite. Top with horseradish and serve with challah.
Total Time
1
hour
10
minutes
Ingredients
2

1 1/2 lbs. roll frozen gefilte fish, defrosted

freezer section of Kosher market

1

1 1/2 lbs. roll frozen salmon, defrosted

2

juice of 2 lemons

1

English cucumber thinly sliced

or regular cucumber, for garnish

2

tbsp.

fresh chopped dill, divided
Instructions
Preheat oven to 325 degrees. Grease a 9" spring form pan

Spread one roll of the gefilte fish into pan. Spread on top of gefilte fish the salmon, try not to mixed it into the gefilte fish.

Mix the last gefilte fish roll with the lemon juice and fresh chopped dill. Put the last layer on top of the salmon

Cover pan with some tin foil. Bake for 1 hour. Chill. Add (for decoration) some cucumber slices and a sprig or two of dill.
…The Backstory continues: But back to the Seder.
Dinner was absolutely delicious.  But what I remember most was the layered gefilte fish torte.  I had never seen gefilte fish prepared like this. The dish had a layer of salmon and two layers of gefilte fish and was made in a springform cake pan. It was served as wedge slices, the same way you would serve pie, and it was light as could be. Not only did it look good, it was so tasty, that I could have eaten only that for dinner,
I will absolutely be making this for my next holiday get together.
Who knew the good Rabbi was such a wonderful cook?
Please follow and like us: