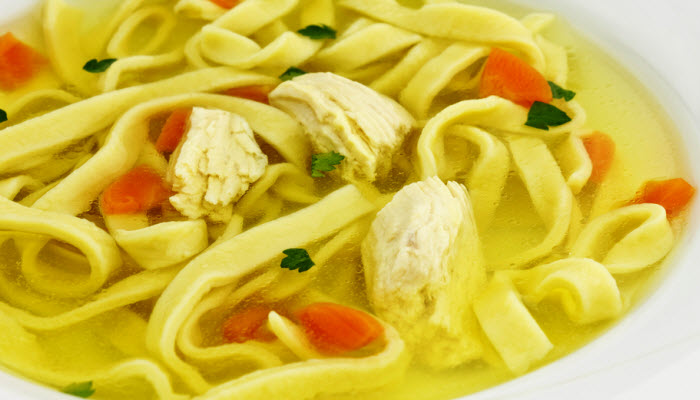 The Backstory: My cousin Elaine, who is a Holocaust survivor, gave me this recipe. She and I always chat on the phone every Friday night. She has filled me with stories of her youth and the years she spent as a young teenager in captivity. Her memories of her mother's cooking have followed her and stayed with her throughout the decades. This is just one of the recipes that she shared with me  that I absolutely love and I know you will love making it for your family as well. More of the Backstory after the recipe…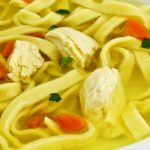 Passover Noodles (for Soup)
These noodles are made to be used in your favorite chicken soup recipe
Ingredients
2

tbsp.

potato starch

1-2

tbsp.

canola or vegetable oil

6

eggs, beaten

water, as needed
Instructions
Beat eggs well until smooth.

in a bowl dilute potato starch with water. Mix well, Add beaten eggs and mix well. Mixture should be consistency of thin pancake batter.

Preheat frying pan. Brush bottom with little oil. Pour mixture slowly until pan is covered with a thin coating. Cook about 1 minute until mixture looks dry. Flip to other side and cook for 1 minute. Put on flat plate and cool. Continue until mixture is used up.

When cool, roll layers and slice into noodles.

Add noodles to hot soup and enjoy.
…The Backstory continues:  These delicate noodles are Pesadich and you can add them to Matzoh Ball Soup or any other soup you serve at your Seder but you can also serve them at any time of year.
In addition to being a wonderful cook and baker, Elaine is a dear friend to me. When I think of her life and all that she has been through…well. I don't have to tell you.
Elaine lives in Toronto and with her late husband Yussie, raised two sons. She has numerous grandchildren and great-grandchildren.
Please follow and like us: