The Backstory: Growing up, my mother told me that when she was a little girl, my grandmother always cooked roasts and chicken for dinner, never hamburgers or anything made from what she called 'chop meat' like so many women eventually did a few generations later. The reason? If my grandmother ever so much as put a hamburger on the table, my grandfather would look at her,  point blank and say, "What, I don't make a living?" More of the Backstory after the recipe…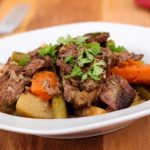 Classic Pot Roast
This savory, comforting, classic dish is as good as it gets. Rich, deep flavors meld together to create a soft, melt-in-your mouth roast that is tender cuts with a fork. Serve with roasted or mashed potatoes for a satisfying fall or winter meal.
Total Time
2
hours
15
minutes
Ingredients
1

4-5 pound

boneless bottom round roast

1/4

cup

vegetable oil

2

yellow onions, sliced into rings

3

garlic cloves, smashed

3

large carrots, peeled and sliced into 1/2 pieces

3

yukon gold potatoes, large

cut into wedges or a dozen small new potatoes, whole, washed

2

tbsp.

tomato paste

1

cup

good red wine

use a red wine you would drink, or water if you cannot use wine

2

cups

beef stock

regular or low sodium, depending on dietary needs

2-3

fresh thyme sprigs

2

bay leaves

Kosher salt and pepper to taste
Instructions
Preheat oven to 350 degrees.

Season the roast on all sides with salt and pepper. In a Dutch oven over medium-high heat, heat vegetable oil and sear roast on all sides.

Add the onions, garlic and tomato paste and cook until the vegetables are slightly colored. Add the beef stock, wine, thyme and bay leaves. Bring the liquid to a simmer and cover. Place in the oven.

Cook for 1 1/2 hours. Add potatoes and carrots and cook for 1 more hour. Transfer roast to cutting board and let rest for 15 minutes.

Slice roast and serve with vegetables and pan juices.
…The Backstory continues: I imagine that when my grandmother cooked for my grandfather, my mother and her three sisters, she was constantly preparing some awfully large meals and of course, the requisite side sides. My grandmother was a wonderful cook and a proud one at that. Like many women who cook for a large family, she cooked with efficiency and practicality in mind. If she made a chicken on Monday, chicken soup was on Tuesday's menu, and if she made a roast on a Friday, well, you can believe that her weekend menu included beef stew and meat knishes on it. My grandmother was a child of the Depression and she wasted very little, especially when she could turn one main dish into two.
I just can't imagine having to whip up huge roasts every single night with all the accoutrements that I know my grandmother would have made to go along with the star attraction. Plus Shabbat on Fridays? Exhausting.
This pot roast recipe has been in my recipe file for as long as I can remember. It must have come from my mother or my Aunt Sandy, although neither of them recall giving it to me. Yet it's the same recipe I've been making for 20 years, and most of my really good staples come from them. And I know exactly where their's came from.
Please follow and like us: