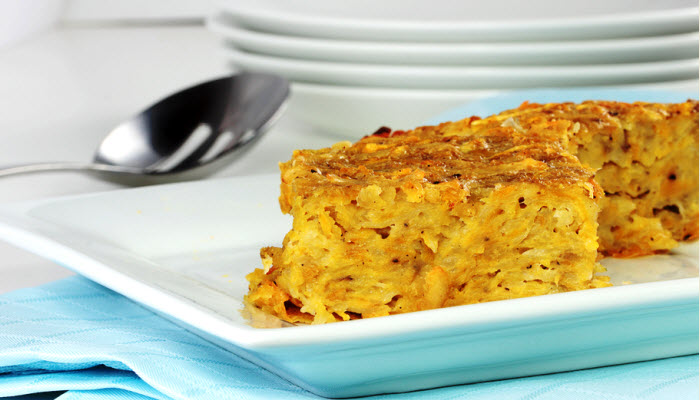 The Backstory: An age old question that Jews will ask when being served this dish "Is it kugel or is it pudding?" And everyone has  an opinion. It is called whatever you want it to be, depending on your age. If you come from a traditional modern Jewish home its pudding. If you came from a more conservative/orthodox home it's kugel, and don't you forget it!!!! When speaking to non-Jews it is definitely pudding with a capital P. More of the Backstory after the recipe…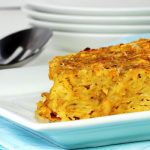 Mom's Potato Kugel
Crisp, savory and delicious potato kugel is a traditional side dish for Shabbat dinner and just about every Jewish holiday celebration. On Passover, this can be made by substituting matzoh meal for the flour.
Ingredients
3

large potatoes peeled and grated

1

small onion, peeled and grated

1

small carrot, peeled and grated

3

tbsp.

oil

2

large eggs, beaten

1/2

cup

all-purpose flour

3/4

tsp.

Kosher salt

1/4

tsp.

pepper
Instructions
Preheat oven to 350 degrees .If potatoes, have too much liquid, put in clean cloth and squeeze out excess liquid. I use an old dish towel for this. Place potatoes into deep bowl, add all the other ingredients and mix until well combined.

Pour mixture into a 8 inch pie plate. Bake for 40-50 minutes. This is best eaten while hot. Serve with applesauce.
…The Backstory continues: It is the same when you mention lox. My gentile friends wouldn't touch this or gefiilte fish, with a ten foot pole. How sad, they don't know what they're missing. I love this dish. It is so mouth-watering that I could eat all this by myself. My mom made this for special occasions. It was easier than making latkes. All she had to do was combine the ingredients and pour into a pie pan.  No standing over a hot stove.  Just shove it into the oven and forget it.  About an hour later it was ready to eat. Serve with applesauce.  Let's eat!!!!!!!!!!!!!!!!!!!!!!!!
Please follow and like us: