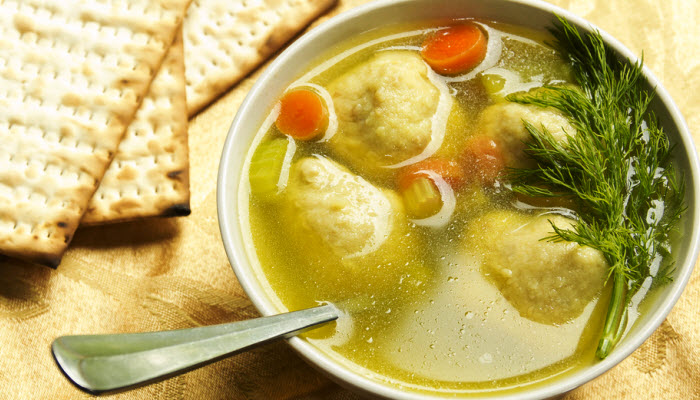 Mom's Kosher Matzoh Ball Soup
The Backstory: First, I promise that this is a true story. When I asked my mother for her chicken soup recipe, she said: "I'll have to measure and get back to you." I said, "How is that possible? You've been making this soup for a hundred years and you don't know the measurements? You sound like Grandma!" More of the Backstory after the recipe…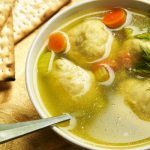 Mom's Matzoh Ball Soup
Good for the soul, Jewish penicillin, the ultimate chicken soup that will warm you up and make you feel like you're home with Mom (or Grandma).
Total Time
2
hours
45
minutes
Ingredients
1

large Kosher chicken

3-4

quarts

water

1

tbsp.

Kosher salt

to taste

1

large

leek

trimmed and washed thoroughly

1

medium

onion

peeled and cut in half

2

large

carrots

peeled and cut in half

1/2

bunch

curly parsley

1/2

bunch

dill

1/2

tsp.

black pepper

to taste

1

stalk celery, cut into 1 inch pieces

1

turnip, peeled

1

parsnip, peeled
For the Matzoh Balls
4

tbs.

vegetable oil

4

large eggs, beaten

1

cup

matzoh meal

4

tbs.

water

2

tsp.

Kosher salt

to taste
Instructions
For the Soup
Clean chicken cavity and outside of chicken and pat dry. Set aside.

Boil 3-4 quart of water and add chicken. Skim off fat. Add remaining ingredients except parsley and dill. Cover pot and and cook on low for 1 1/2 hours.

Tie parsley and dill together with cooking twine and add to pot. Cook addition 30 minutes.

Remove parsley and dill from pot. Remove chicken from pot and any bones that may have come off during cooking.
For the Matzoh Balls
In a large bowl beat eggs and then add oil, matzoh meal and salt. Mix together. Add four, teaspoons of water and mix together. Cover with plastic wrap and let chill in the refrigerator for about 20 minutes while you make the soup.

Removed chilled mixture from refrigerator. Using moist hands, form batter into 1 inch balls and cook in a pot of boiling water for 20+ minutes. Remove from water and keep at room temperature.

When you are ready to serve later with chicken soup, allow matzoh balls to simmer in the chicken soup for 5 minutes to heat through, before serving. Suggested serving size is 1-2 matzoh balls per serving.
…The Backstory continues: To which she replied: "When your father and I got married, I was making my first Thanksgiving. It was the same year  we got married, 1959. I asked my mother for her recipes so I could make dinner. One of them was for chicken soup. The woman never measured anything. Her answer to me was "Take a pot and put water into it. "How much?" I asked. "Take a glass and add about 8-10 glasses to the pot," she said.
"How much salt should I use?" my mom asked my grandmother.
"Open your hand and pour some in," came the reply. And the same for pepper and so on. My mother said that my grandmother told her to "adjust everything later" and that this was her advice for pretty much every recipe she gave her that day.
So, when I called my mother, some 54 years later and asked for her chicken soup recipe, it makes sense why her response to me was, "I'll have to measure and get back to you." Honest to God, my mother used the same drinking glasses she has been using all these years, dumped ten of them into a large measuring cup to get the exact measurements and did the same with her seasonings to come up the the measurements for this recipe. It was the first time in 54 years she ever measured anything to make this soup.
P.S. She says that if you don't like something, "adjust it later".
Please follow and like us: