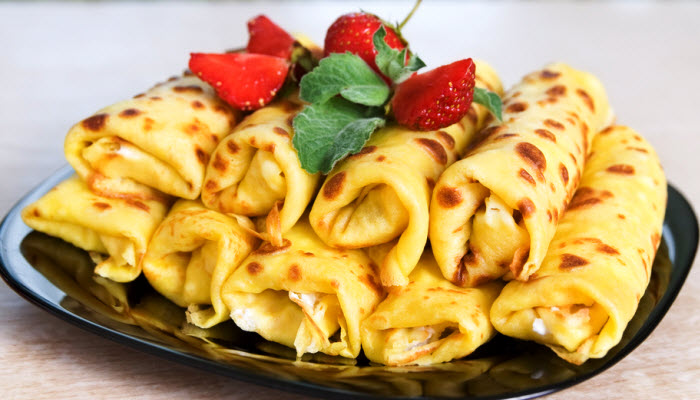 Sweet and slightly chewy, Mom's cheese blintzes are so delicious, you'll never be able to stop at just one. Perfect for your next family brunch!
The Backstory: The history behind Mom's cheese blintzes–or any cheese blintz, for that matter, is quite diverse.  Its origin goes back so far in Russian culture, that no one seems to know when it first appeared on the scene.  In Russia, blintzes are called blini, and can be stuffed or topped with cheese, smoked salmon or caviar.  The Poles also call them blini and serve them similarly.  More of the Backstory after the recipe…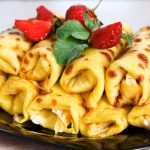 Cheese Blitzers
Golden brown in color, with a sweet creamy filling these blintzes do not need any description except, I bet you can't eat just one.
Ingredients
1 1/2

cup

all purpose flour sifted

1

tsp.

Kosher salt

2/3

cup

milk

1/2+

cup

butter

4

large eggs

1

lb.

creamy cottage cheese, drained

you or 1/2 lb. of softened cream cheese and1/2 lb. of cottage cheese

1

tsp,

pure vanilla extract

1

tbsp.

sugar

1 1/4

cups

water
Instructions
Combine flour and salt. Add water. Beat until smooth. Add 4 eggs and beat. Add milk and beat until batter is a thin consistency. Set aside. Mix the cheese with the vanilla and sugar. Set aside.

Heat a small frying pan or crepe pan with 1 tsp. of butter on low to medium heat. Pour about 1/4 cup batter into pan. Tilt pan to spread the batter evenly. When the bottom of the crepe is slightly brown and bubbles appear on top, slide the crepe brown side up, onto a plate.

Add 1 tsp. of butter and repeat the process. Remember to always add the butter when doing a new crepe. When all the crepes are made, take one crepe and fill only the brown side, add 1 tbs. of cheese mixture to each crepe and fold sides and roll up.

Melt remaining butter in the pan and place crepe seam side down and brown until golden. This may take several batches. Add more butter if needed. Serve hot with sour cream on the side.
…The Backstory continues: In Europe, blintzes are traditionally mainly made with buckwheat flour and yeast.  We also call these blintzes, pancakes, or crepes. No matter what you call them, they are delicious. I guess that is why they have survived for so many generations and are so beloved as Jewish comfort food (they're still on most Jewish deli menus, so that should tell you something). To whomever first brought these delicious rolled pouches, crepes, blintzes, blinis (whatever), to our shores, thank you.
Please follow and like us: