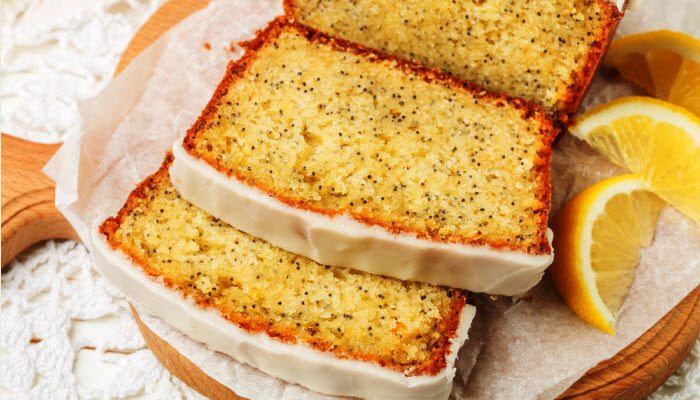 Our Lemon Poppy Seed Loan is both sweet and tart and pairs perfectly with  a cup of coffee or tea, or as a kids' snack in a lunchbox.
The Backstory: So here's the thing: I don't like poppy seed bagels (sorry, Dad), or poppy seed rolls, or anything with poppy seeds with the exception of two things 1) my mother-in-law's divine Spinach Pie (absolute perfection and a staple at every holiday meal in our family) and 2) this Poppy Seed cake. Don't ask me why. It's the same for me with tomatoes: I love fresh tomatoes, tomato sauce, all and just about tomato products except for tomato juice. Makes no sense. But there it is. More of the Backstory after the recipe…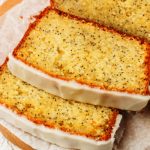 Lemon Poppy Seed Loaf
This cake has a light note of vanilla and a fresh kick of lemon, in addition to the delicious poppy seeds running throughout the loaf. It's a perfect bite with tea or coffee or packed as a snack in lunch box. Save one for yourself and gift a loaf to a friend.
Total Time
1
hour
5
minutes
Ingredients
2 1/2

cups

flour

1

cup

sugar

3 1/2

tsp.

baking powder

1

tsp.

Kosher salt

1 1/4

cups

milk

1/3

cup

vegetable oil

1

egg

1

tsp.

vanilla

zest of one lemon

1/4

cup

poppy seeds
Icing
2

cups

Confectioner's sugar for dusting

1/2

tsp.

pure vanilla extract

3-5

tbsp.

milk
Instructions
Preheat oven to 350 degrees. Grease the bottoms only of the loaf pans and set aside

In the bowl of a standing mixer with the paddle attachment, combine the flour, sugar, baking powder, and salt. Add the milk, vegetable oil, egg, vanilla and lemon zest and beat on medium speed until just combined. Do not over mix. Add the poppy seeds and beat for another 30 seconds. Pour batter into loaf pans and bake for 55-60 minutes or until cake tester or toothpick inserted into the center of the cakes come out clean.

Remove cakes from oven and let cool slightly on wire rack. Loosen sides of cake with knife and continue to cool on rack before removing from pan and serving.

In a small bowl, whisk together the Confectioner's sugar, vanilla, and milk until smooth. Add more milk if needed to get desired texture. Place a sheet of wax paper under cooled cake and spoon icing over top of cake. Let excess drip down sids or if you like a more simple, frosted look, use an offset spatula to ice only the top of the loaf. Let icing set for 15 minutes before serving.
…The Backstory continues: But back to this scrumptious cake. (Can someone please tell me why some things are called loaf versus bread when they really are just cakes?) Tangent, tangent,….sorry.
This is a deliciously moist, not-too-sweet, lightly-vanilla-based cake (yes, cake), that is just perfect for coffee, tea, brunch, or hell, who are we kidding–breakfast. It's delicious. Because the poppy seeds are baked throughout the cake, they are softened, and don't have that hard, crumbly poppy seed feel (like when they are tossed in, say, an Asian Chicken salad), and don't get stuck in your teeth. There: I said it, for those of you quietly worrying about it. This cake and it's requisite poppy seeds, just melt in your mouth.
The slight lemony taste really lighten the cake up just enough to make it super fresh, super light, and just about perfect. It's really a delicious cake and it's very easy to make. Sometimes I make a quick icing (recipe below) for the top, other times, I leave it as is. The recipe came to me from my friend Carla, years ago, when I lived in Chicago. Thanks, Choochie, for another delicious recipe.
NOTE: This recipe makes two 8 1/2 x 4 1/2  x 2 1/2 loaves. You can also make one large loaf using a 9 x 5 x 3 inch loaf pan
Please follow and like us: