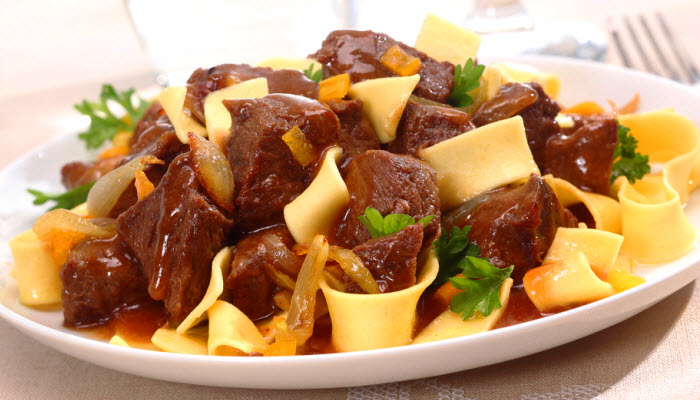 Bring back a taste of the old country with our Hungarian Goulash. This hearty dish will stick to your ribs warm you up on cold winter days.
The Backstory: Goulash is a type of stew made with meat and vegetables and when most people hear the the word goulash, they immediately think Hungarian Goulash, the stew associated with shepherds and herdsman dating back to the ninth century. This hearty dish was typically prepared with lamb, pork, beef, or veal. As Hungarian Goulash made its way through Eastern Europe and eventually to American shores, beef became the meat of choice, and paprika, of course, its signature spice. More of the Backstory after the recipe…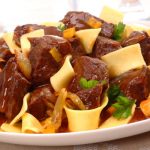 Hungarian Goulash
With nice chunks of brown meat swimming in a brown gravy, this dish is very appealing. The richness of the paprika and the bay leaf fills the kitchen with pleasant aromas.
Total Time
1
hour
15
minutes
Ingredients
3

lbs.

Kosher beef stew meat, cut in large chunks

1/3

cup

oil

1

tsp.

Kosher salt

1/2

tsp.

black pepper

1

clove garlic chopped

1

medium onion, peeled and sliced into rings

1

bay leaf

2-3

large carrots, peeled and cut into medium chunks

1 1/2

cups

beef stock or broth

or 6 oz. tomato paste and 1 1/2 cups water
Instructions
In a large stock pot heat oil and add onions and saute until soft. Remove onions and set aside. Combine paprika, salt, pepper and flour in a deep bowl. Dredge the beef in the flour. You may have to add a little oil to the stock pot. Add the meat and brown on all sides.

When completely brown add the onions back into the pot. Add the bay leaf, carrots and the beef stock. Stir and cover. Cook on low heat for about 1 1/2 hours. Check often. If more liquid is needed you can add some stock. When meat is tender remove from heat. It may take more time to cook.

Remember to remove the bay leaf before serving. This goes great with wide noodles. Add some crusty bread to soak up the broth.
…The Backstory continues: As you might expect, local ingredients flavor regional cooking. If a particular herb, spice, vegetable or type of meat was readily available in a certain country, city, or neck of the woods, well that's what you'd find in a regional stew, cassoulet, soup, or one-pot meal.  This is how cuisines have been shaped the world over, for as long as people have been cooking (and eating)!  Likewise, goulash, with local influences can be found in Hungary, where it originated, neighboring Austria, Germany, Croatia, Italy, the U.S. and many other countries. Sometimes the difference in the dish comes down to that indigenous spice or herb.
As for me, I love easy one-pot dishes that cook low and slow. True, it may take time for everything to cook, but when it's done, you don't have to look for anything else to enhance your dinner.  Serve this savory dish atop wide noodles for a rich, stick to your ribs meal.
Please follow and like us: