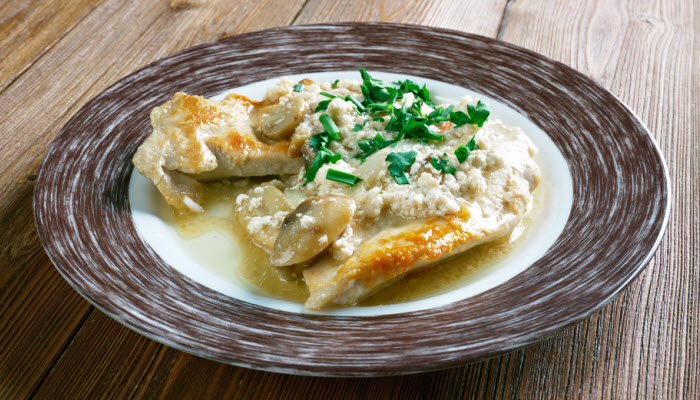 Kosher Veal Scallopini uses the most tender cuts of veal and a savory sherry wine sauce to create a company-worthy dish your guests will devour.
The Backstory: I know what you're thinking, Veal Scallopini: on a Jewish food site? There's a story behind why this recipe is here. Before I was married, my boyfriend (who became my husband) and I were introduced to this fantastic small restaurant in Brooklyn.  The waiter, whose name was Adam, encouraged me to try something different from my usual order. It was love at first bite. What fascinated me about this restaurant was that there was only one waiter.  He never wrote down an order and he never made a mistake.  I tried many dishes over the years there.  Never was I disappointed. More of the Backstory after the recipe…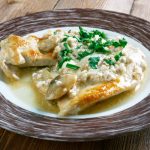 Veal Scallopini
Tender slices of perfectly sauteed veal in lemon and wine sauce will melt in your mouth. Tender mushrooms with delicate seasonings put it over the edge. Add some pasta and a green vegetable to complete this delicious meal.
Ingredients
2

lbs.

Kosher veal cutlets

thinly sliced

1/2

tsp.

Kosher salt

1/4

tsp.

black pepper

1

clove garlic chopped

1/4

cup

flour

1/4

cup

oil

parve margarine

1

tsp.

dried oregano leaves

1 1/2

cups

fresh mushrooms, sliced

1/4

cup

Kosher dry Sherry Wine

or White wine

1 1/2

tsp.

fresh lemon juice
Instructions
On a large plate, put flour, salt, pepper,and oregano, combine, dredge veal in the mixture and coat well. Shake off excess flour. Heat 2 tbsp. oil in a large skillet. on low to medium heat saute veal on both sides. About 2 minutes. Remove veal and set aside.

If more oil is needed, do it now. Saute the garlic, and mushrooms. Add the lemon juice and wine. Stir. Add the veal. Cover the skillet and simmer on low heat for about 10 minutes. Check often. If more liquid is needed you can add more wine or some Kosher chicken stock.

Remove and serve while it is hot.
…The Backstory continues: Years later, Adam bought the place and ran it just as successfully.  As time went by and we moved out of that neighborhood, our visits became less and less frequent. That restaurant holds many pleasant memories for me.  In those years even though I had eaten many non-Kosher foods, things were different at my house.  I have learned how to take a recipe and make changes to make a dish Kosher.  My meat was always bought from a Kosher butcher in Brooklyn, even though I eventually lived in Staten Island. Actually, my mother bought the meats for me and she always refused to take any  money. But she insisted on buying the meat. Go figure. To get this dish just right,  I worked with a traditional Scallopini recipe (and by the way, this works excellently with chicken too), until the recipe was perfecto.
The wines I used were always  Kosher, as is the wine in this recipe. This tasty dish will not disappoint. It is savory, tender, and perfect for holidays, a special celebration, or whenever you want to go all out.
Please follow and like us: