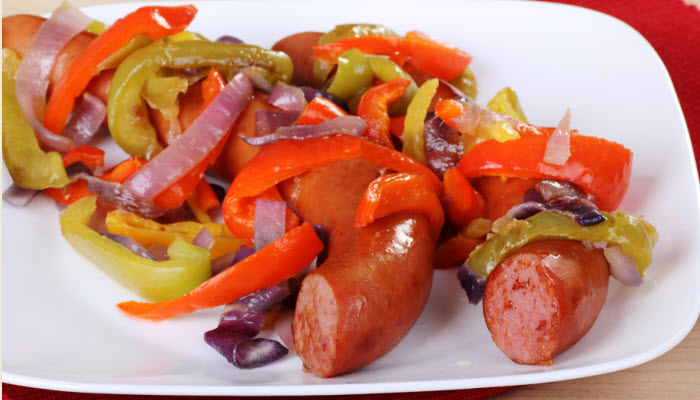 Kosher veal sausages are savory and versatile whether grilled, baked, or boiled. Serve with all the fixings for a delicious lunch or casual dinner.
The Backstory: As a New Yorker, one of my favorite things on earth is the aroma of hot dogs and sausages wafting through the air from the hundreds (thousands?) of carts and vendors on the City's street corners. And the smell of warm chestnuts?! I can close my eyes and smell all of those delicious, quintessential New York smells right now, as I sit in my condo in Florida. So what am I still doing here? For some reason, I think of those delicious smells as fall and winter smells, even though New York is famous for its vendors and carts all year long. Still, the thought of a good New York hot dog or grilled sausage on a fall day….don't get me started! More of the Backstory after the recipe…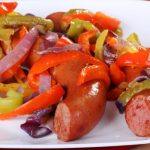 Kosher Veal Sausages
This is a fun dish for summer parties, casual dining and whenever you need to feed a crowd. It's a tasty dish that's also very colorful to look at.
Ingredients
4

Kosher Veal sausages

1-2

8 ounce cans of tomato sauce

1/4+

cup water

2

large peppers cut into medium chunks

red and green

1

large onion cut into medium chunks

1

clove garlic chopped

2

sprigs of rosemary leaves

1/2

tsp.

Kosher salt

1/4

tsp.

black pepper

1

tbsp.

oil

8

grape tomatoes

for garnish, optional
Instructions
Preheat oven to 350 degrees. Line a large baking dish with aluminum foil. Spread a little oil all over the dish. Pierce the sausages with a fork in a few spots. Place in the dish and bake about 10 minutes, turning once.

Add all the veggies. Sprinkle the salt, pepper, garlic and rosemary over the entire dish. Mix the tomato sauce and the water together and pour over the top. If there is not enough liquid in the bottom of the pan add some water or more sauce. Cover loosely with foil Bake about 20 -30 minutes more. When veggies are soft and sausages are done remove fro oven. Serve this on a long rectangular platter. Spoon the veggies all around and garnish with the tomatoes.
…The Backstory continues: I happen to love hot dogs and sausages, but only the Kosher variety. That's what I grew up with and that's what I have always served to my family and company. And there are so many delicious ways to prepare  them. You can cook them on the stove top, in the oven or on the grill. I happen to prefer them grilled on a barbecue with peppers and onions but since I cannot do that where I live, I use different methods.  This recipe calls for the oven.  It may take a little longer to prepare, but you will save time by not having to clean the stove top. One less job to do–that's my kind of cooking!
Please follow and like us: