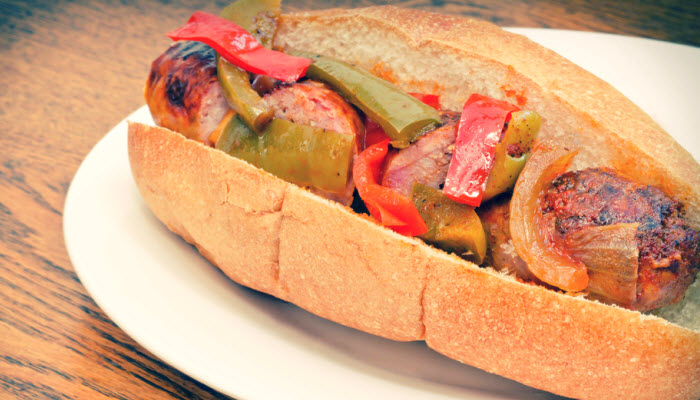 Kosher turkey sausages are savory and versatile whether grilled, baked, or boiled. Serve with all the fixings for a delicious lunch or casual dinner.
The Backstory: Since I now live alone, my way of eating has dramatically changed.  Dinner for one sometimes consist of anything between two slices of bread. Or how about frozen foods? Whatever is in the freezer that will cook in little time–that's for me. Usually that is pizza, hot dogs. pot pies, etc.  Occasionally I will defrost a piece of salmon, chicken or meat and cook for myself.  In order to do, I typically defrost that item in the fridge overnight, so by the next day, I'm good to do…if I feel like eating it. More of the Backstory after the recipe…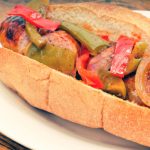 Kosher Turkey Sausages
These plump sausages fit perfectly into a bun, and when topped off with the veggies. they are scrumptious and ready to eat. This is a little spicy from the garlic and the tomato sauce, so adjust your seasonings according to your taste.
Ingredients
4

Kosher Turkey Sausages

1

large onion,peeled and cut into rings

2

Peppers, seeded and cut onto mediumpieces

1 red, 1 green

1

clove garlic, minced

1/2

tsp.

Kosher salt

1/4

tsp.

black pepper

1/2+

cup

tomato sauce

2

tbsp.

water

as needed

2+

tbsp.

oil

1

8 ounce can of mushrooms, drained

optional, or fresh mushrooms

4

buns

or rolls of your choice
Instructions
Heat the oil in a large skillet. Using low to medium heat cook the onions, and peppers. When the onions are translucent, remove and place in a bowl. Set aside.

Put the turkey sausages in the pan, and brown on all sides. Brown for about five minutes. Add the onions and peppers back into the skillet. Add the salt, black pepper, and garlic. Mix the tomato sauce with about 1 tbsp. of water. Pour on top of the sausages

Cover pan and reduce heat to low. Check often. If liquid is needed add some water or tomato sauce. After about 15 minutes you can add the mushrooms. Remember mushrooms gives off water. Cook for 5 minutes more. Check the sausages by cutting into the middle. If it done cooking remove from heat.

On a pretty serving platter place the buns and load each one with the sausages and then the veggies and sauce. Serve hot.
…The Backstory continues: Sometimes, I wait another day as my mood has changed. Whatever. But one of the item that I really look forward to preparing is Turkey Sausages. They remind me of the grilled sausage vendors in New York and once I start going down memory lane, well, then I feel like cooking.   A trip to the market is a must for the good stuff to accompany the sausages.  I like to serve this with either french fries or coleslaw and a pickle. Any cold beverage will do. I have made this for company and eliminated the bun, but added rice or pasta. Your options are widespread.  Enjoy.
Please follow and like us: