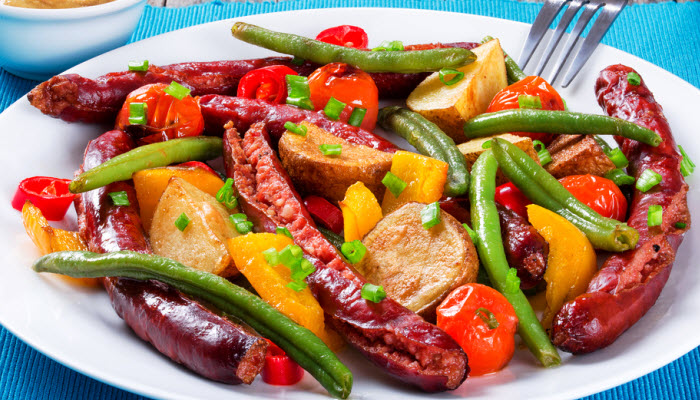 Kosher beef sausages are savory and incredibly versatile for BBQ, casseroles, or boiled. Serve with all the fixings for a delicious lunch or casual dinner.
The Backstory: I never once bought sausages before I lived on Staten Island.  My Kosher butcher in Brooklyn did not carry them and it was not something my own mother, who also kept Kosher would have ever cooked for my father, sisters, and me as a child. Yet after my husband and my two children moved across the bridge to Staten Island, a Kosher butcher opened a store in the same development where we lived. As there were so many Jewish families in the area, he had a good business and plenty of customers. That was the start of our relationship with this store. I always ordered my holiday turkeys from this place. It was always cooked just right.  The foods that I purchased there were of a high quality.  I shopped at that store for well over 20 years.   More of the Backstory after the recipe…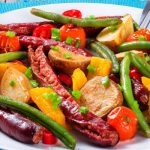 Kosher Beef Sausages
These succulent sausages are juicy, savory, and full of flavor. The mixed vegetables fill out the dish and make for a nice dinner. Add some crusty bread and you've got a wonderful hearty meal.
Ingredients
4-6

Kosher beef sausages

2

14.5 oz. cans of diced tomatoes.

2

large peppers cut into 1/2 inch strips

any color, your choice

1

clove garlic chopped

2

large sweet onions cut in rings

2

potatoes, peeled and cut into small chunks

1/4

lb.

fresh green beans

frozen can be used

8

cherry tomatoes for garnish

1-2

tbsp.

vegetable oil
Instructions
Heat 1 tbsp. oil in a large skillet. Add peppers, onions, potatoes and garlic. Cook until the onions become translucent. Remove veggies and place the veggies in a bowl. Set aside.

To the pan, (medium heat) if more oil is needed do it now. Place the sausages in pan and brown on all sides. This should take about 8 minutes. When brown, add the vegetables back to the pan and add the green beans and about 1 1/2 cans of diced tomatoes. Do no drown the sausages with too much liquid. Cover the pan.

Lower the heat and cook for about 15 minutes. Check often. When it is done serve on a pretty dish and scatter the grape tomatoes all over the platter. Serve hot and add some crusty bread to soak up the delicious juices.
…The Backstory continues: One of the items that I started to buy were chicken, beef, veal, and turkey sausages.  Such a funny thing (at the time) for me to see at a Kosher butcher! Over the years I learned to cook them many different ways–grilled, baked, in a casserole, boiled, and so on.  I had no true set recipe or list of ingredients, so whatever I had in my pantry or fridge, I simply added to my dish on a given day. This is one of those throw together dishes that somehow always comes out perfectly.
Please follow and like us: