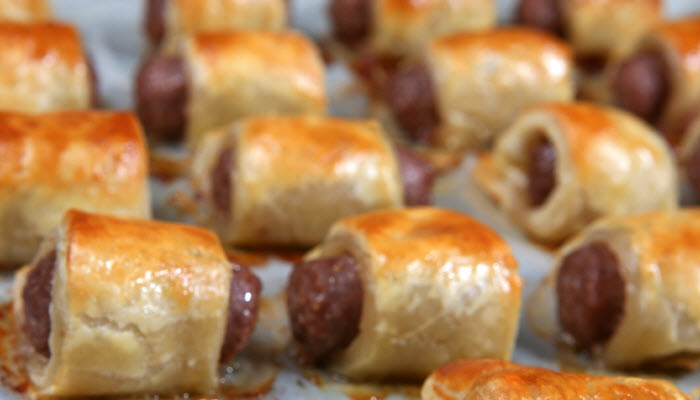 Kosher Homemade Pigs in a Blanket
No matter how fancy or casual your party, the fun doesn't start without homemade pigs in a blanket–a traditional fan favorite!
The Backstory: Let's be honest with each other: no matter how fancy the shindig or how high-end the food, what do you think everyone's favorite hors d'oeuvre is? You got it: homemade pigs in a blanket. More of the Backstory after the recipe…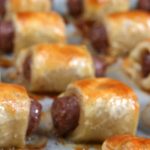 Homemade Pigs in a Blanket
Everyone's favorite appetizer gets a homemade makeover with puff pastry. These pigs in a blanket are mouthwatering good and easy to make. Double the recipe to make sure you don't run out!
Ingredients
1

package

Pepperidge Farm Puff Pastry, defrosted

Defrost overnight in fridge

1

package

Hebrew National or Nathan's Beef Franks

Nathan's Deli Style Mustard

or other deli style mustard
Instructions
Preheat oven to 375. Line baking sheet with parchment paper.

Roll out one sheet of puff pastry and keep other in fridge until ready to use. Place two franks side by side, horizontally, on puff pastry. Roll pastry to cover the franks and make sure the puff pastry is well tucked under the franks. Cut off excess pastry.

Cut the wrapped hot dogs into 3 inch pieces. You will get about 3 pieces per hot dog, depending upon the size of your franks. Place each piece on the baking sheet, about 2 inches apart.

Repeat with remaining hot dogs, using additional puff pastry as needed.

Bake for 30 minutes or until puffed and golden brown. Serve with deli mustard (and watch them disappear!)
…The Backstory continues: I can't tell you how many weddings I've gone to where lonely white-gloved waiters walk by with full platters of crab cakes and blinis while all the guests are busy tracking down the pigs in a blanket guy. What gives?
Maybe it's nostalgia or a yearning for our childhoods or simpler times. Or maybe it's just as simple as this: they're just so good.
Turns out, they're really easy to make and even better when you use really good ingredients. I typically don't specify brands in recipes, but for this simple, 3-ingredient recipe, I happen to have some favorites.
Please follow and like us: