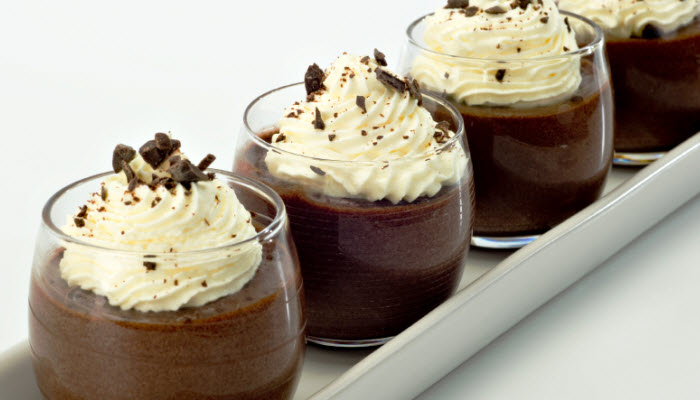 Decadent Chocolate Mousse
Rich and sinful are the best ways to describe our decadent chocolate mousse. This delicious, layered dessert is creamy, chocolaty, and the perfect way to indulge your craving for everyone's favorite treat!
The Backstory: I've never met a dessert I didn't love and this decadent chocolate mousse is no exception! I inherited my dad's sweet tooth, spent my year's growing up in a bagel bakery (more carbs), and well, the rest is history. More of the Backstory after the recipe…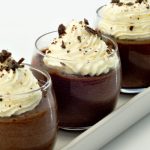 Decadent Chocolate Mousse
Chocolaty, rich, creamy mousse is topped with homemade whipped cream, chocolate shavings and fresh berries for a melt-in-your mouth dessert that will have your guests begging for more.
Ingredients
1

bar

Hershey's chocolate, 7 ounces

(large bar)

1

container

Cool Whip, 12 ounces

thawed

1

cup

whipping cream

1 1/2

tbsp.

sugar

1

tsp.

pure vanilla extract

dark chocolate block for shaving

fresh raspberries or strawberries for garnish
Instructions
Break up the chocolate bar into small pieces. Melt in microwave on high heat at 30 second intervals. Stir when you check the chocolate every 30 seconds. When melted, remove from microwave and allow to cool for a few minutes.

Gently fold Cool Whip into the melted chocolate. Do not over mix. Chill in refrigerator for 2 hours to set up.
To Make the Whipped Cream
Beat whipping cream in electric mixer on high speed until stiff peaks begin to form. Add in vanilla and sugar.

Spoon mousse into bowls and top with a heaping spoonful of whipped cream. For an extra flourish you can use a pastry bag and tip to pipe the whipped cream. Add chocolate shavings and berries if desired. Serve immediately.
…The Backstory continues: I am picky when it comes to recommending dessert recipes, and I+ love to cook, which means I've tried (and rejected) a lot of recipes in my time. I've also glommed (is that a word?) on to those that I love. This is one of them and it comes from my dear Aunt Sandy, of Aunt Sandy's Mandel Bread fame. My darling aunt knows her way around a kitchen. She's also an excellent decorator. But I digress. This is an easy recipe and it's gorgeous to plate. I like to serve the chocolate mousse in small glass bowls (brandy glasses are also nice) with a huge dallop of fresh whipped cream (recipe below) chocolate shavings, and fresh raspberries.
This is a very versatile recipe. It can be the base for a larger holiday trifle, layered with all kinds of goodies (homemade or store-bought, depends upon your time, budget and needs). Think of the possibilities: mousse, whipped cream, layers of blackout cake or devils food cake, a layer of strawberries…maybe a splash of Chambord? Are you off with me in my happy place? I thought so.
The mousse can be stored in the fridge for a day or two but it's really best served (consistency-wise) the day you make it. Not that there's anything wrong with a next-day binge on day-old mousse. I mean, really. Who am I kidding?
Please follow and like us: