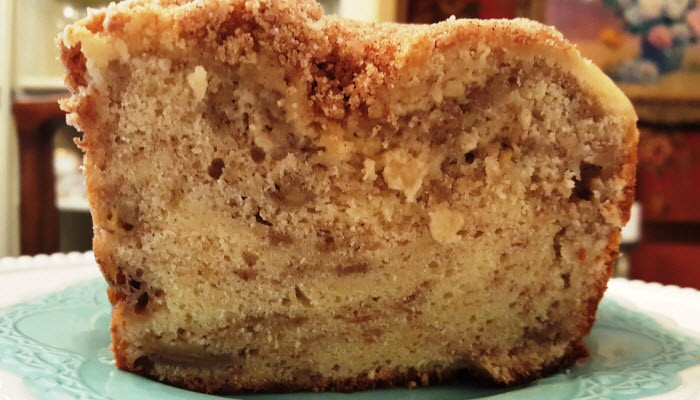 Jodi's Favorite Banana Bread with Crumb Topping
Roasted bananas are the secret ingredient that make this bread moist, sweet, and one of our top picks.
The Backstory: This is my all-time favorite banana bread recipe. I'm not even doing it justice by calling it banana bread. There's so much more to it than this. To begin with, the bananas are roasted–yes, roasted–in their skin for 20-30 minutes before being mashed and added to the rest of the batter. Roasting the bananas on low heat for just a little bit of time does such glorious things to this cake (bread, whatever) that I almost don't have words to describe it. But of course, I'll try. More of the Backstory after the recipe…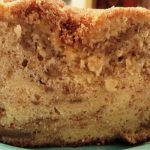 Jodi's Favorite Banana Bread with Crumble Topping
Sweet roasted bananas make this banana bread extra moist, rich and delicious which a cinnamon crumb topping adds the perfect touch of crunchy, crumbly goodness. This bread is perfect with coffee, tea, or served as a plated dessert.
Total Time
1
hour
45
minutes
Ingredients
For the Banana Bread
4

bananas

medium size, roasted, cooled and mashed

3 large or 4 medium, roast in skins at 250 degrees for 20-30 minutes, then mash with fork

1 1/2

cups

sugar

1

stick

unsalted butter, at room temperature

this is important--do not heat butter in microwave to melt it

1/4

cup

buttermilk

2

eggs at room temperature

2

tsp.

pure vanilla extract

2

cups

all-purpose flour

1/4

tsp.

baking soda

1

tsp.

baking powder

pinch of Kosher salt
For the Crumb Topping
4 1/2

tbsp.

sugar

4 1/2

tbsp.

all-purpose flour

4

tbsp.

cold butter, cut into small pieces

1 1/2

tsp.

ground cinnamon
Instructions
Preheat oven to 250 degrees. Place 3 large or 4 medium bananas on a sheet pan. Be sure to remove any stickers from the bananas. Cook bananas in their skins for 20-30 minutes or until skins are black or very dark and bananas feel soft. Remove from oven, peel bananas and put them in a bowl. Mash them with a fork to allow them to cool and set aside. Raise oven temperature to 350 degrees.

While the bananas are cooling, butter and flour a loaf pan and set aside. Also, make the crumb topping so you can refrigerate it while you make the banana bread. To make the topping:Combine 4 1/2 tablespoons of sugar, 4 1/2 tablespoons of flour, and 1 1/2 tsp. of cinnamon in medium bowl. Add the cut up butter and with your hands, squeeze all ingredients together until the mixture looks like wet sand. Put in fridge to chill while you make the banana bread.

In the bowl of a standing mixer, cream together the sugar and butter. Beat for about 2 minutes until light and fluffy. Add the eggs, one at a time on low speed. Slowly add in the buttermilk and the vanilla and blend until combined.

In a large bowl, sift together the flour, baking powder, baking soda and salt. Slowly pour in the flour mixture. Mix until just incorporated. Do not over mix. When combined, remove the mixing bowl from the mixer and use a rubber spatula to gently fold in the bananas.

Pour into loaf pan. Sprinkle the crumb topping all over the top of the banana bread. Bake for 1 hour. Check to see that a toothpick or cake tester inserted into the middle of the cake comes out clean. Let cool on rack for 15 minutes and then remove from loaf pan. Cut into slices and serve.
…The Backstory continues: To begin with, if you're like me, you never have overripe bananas on hand when you want to make banana bread. By cooking them in their peel for 20-30 minutes, you eliminate that headache altogether and can have perfectly sweet, overripe, gorgeous bananas, anytime you wish to start baking.
Next!
Cooking the bananas brings out a sweetness in the bananas that doesn't otherwise come from just allowing them to ripen on the counter. Even when they naturally become overripe, they do not achieve this level of gooeyness (new word) that they do when they are slow-roasted.
A word of caution: To roast the bananas, you simply place them on an ungreased sheet pan (remove any stickers from the skins) for 20-30 min at 250 degrees. The skins will turn black. Don't be alarmed! When they do, you simply (and carefully), remove the peel, and place the bananas into a bowl and mash them up with a fork. Allow them to cool before proceeding with the recipe. It takes all of 10 minutes to cool, but mashing them up will speed this process along. I cannot tell you how much of a difference in sweetness, texture, moistness and taste, the roasting bananas makes in this cake. You will never make banana bread any other way after you try it like this. As you can see from the enlarged photo, you can see the large pieces of banana throughout the cake and you will absolutely taste them with every single bite.
If that weren't enough, the crumble topping is delicious and adds a crumb cake texture to balance the moistness of the cake. I'm serious, my friends, this is the banana bread you have been waiting for.  I typically double the recipe as this cake freezes beautifully and is just as delicious after a good thaw.
Enjoy!
Please follow and like us: