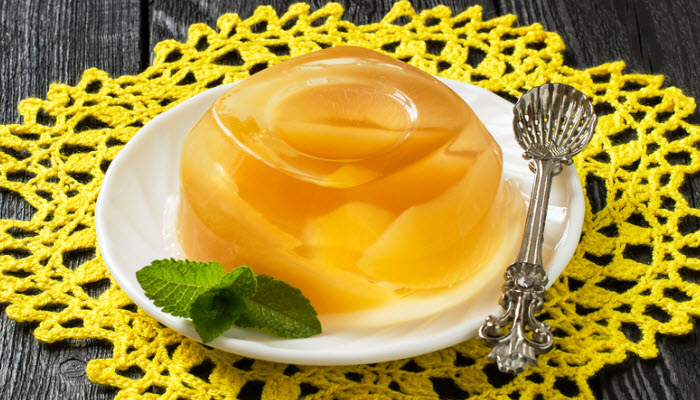 Our refreshing fruit and Jello mold is a delicious taste from the past that'll remind you of meals at your Bubbie's (the best!) and wonderful, simpler days.
The Backstory: J-E-L-L-O! Right now my mind is going back to my early childhood (the 1940's, 50's and early 60's) and the memories that Jello provokes.  There was a commercial on the "telly", the shortened word for television or TV.  Usually a mother was in the kitchen and her demeanor was that of a calm, serene housewife, preparing her Jello molds for her family or company.  It was like an Ozzie and Harriet Show.  The molds always came out perfectly. Of course, sometimes these commercial were live broadcasts–no do overs here. These commercials were shot  during the 1950's.   More of the Backstory after the recipe…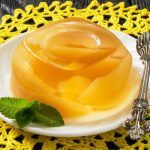 Fruit and Jello Mold
The Jello mold makes for a pretty presentation. The red of the jello with its fruit inside reminds you that this is a tasty treat. Sweet and so easy to digest.
Total Time
4
hours
15
minutes
Ingredients
1

6 ounce box of lemon Jello

not sugar-free, any flavor can be used

1 1/2

cups

canned sliced peaches, drained

or any other canned fruit

2

cups

boiling water

2

cups

cold water
Instructions
Boil 2 cups of water and pour in a large bowl. Add the jello and stir until all the gelatin is dissolved. Add the cold water and stir. When the gelatin is completely dissolved and combined, add the drained fruit and mix. Pour into a 2 1/2 quart mold or any other bowl. Place in the refrigerator for at least 4 hours

After the jello is firmly set, fill a larger bowl with tepid water, or fill the kitchen sink with tepid water. Take the jello mold and put it (only the bottom ) in the tepid water for a few seconds to loosen the jello from the mold. Do NOT let water get into the mold. Remove the mold dish and loosen the sides with a spatula. Invert onto a platter and garnish with fresh strawberries.
…The Backstory continues: I don't know if my mom got here Jello recipes on the TV or from one of the many magazines that were geared to family and home.  Thinking back to those years, I tried to remember the magazines my mom brought, or were passed on by friends.  Family Circle, Women's Day, Redbook and Good Housekeeping. There were others, but these were the ones I remember best. Anyway here is the recipe for a pretty dessert, J-E-L-L-O. It still tastes good and always brings back a little bit of childhood memories. Probably for you, too.
Please follow and like us: