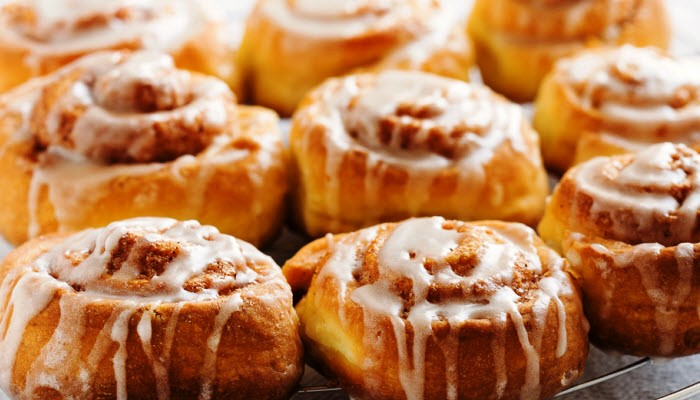 Jodi's cinnamon rolls are sticky, sweet, and pull-apart delicious with raisins, pecans, and melty brown sugar. What could be bad?
The Backstory: My son, Morgan and I recently whipped up a batch up of these delicious cinnamon rolls after he was visited in his fourth grade class by a group of bakers from the King Arthur Flour people, who introduced the class to the art of baking. How fabulous is that? The recipe below, however, is one of mine, not the fine folks at King Arthur, although I must give them credit for getting my son into the kitchen and getting a rolling pin into his hands, LOL. More of the Backstory after the recipe…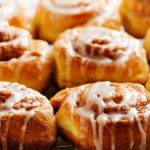 Jodi's Cinnamon Rolls
These cinnamon rolls have it all: pecans, raisins, a dense, pull-apart center, and the perfect amount of sweetness to start your Sunday off on the perfect note. Add coffee and just ease into the day.
Total Time
6
hours
25
minutes
Ingredients
For the Dough
1/2

cup

sugar

1/2

tsp.

Kosher salt

1 1/2

packages

active dry yeast

4 - 4 1/2

cups

all-purpose flour

1

cup

milk

1/2

cup

butter or margarine, at room temperature

1

egg

vegetable oil to grease bowl
For Filing
1/2

cup

light brown sugar

1/2

cup

chopped pecans, optional

1/2

cup

raisins

1

tsp.

ground cinnamon

1/4

cup

melted butter or margarine
For the Icing
2

cups

confectioner's sugar

1/2

tsp.

pure vanilla extract

2

tbsp.

water or milk
Instructions
In a large bowl, combine sugar, salt, yeast, and 1 cup flour. In a 2-quart saucepan over low heat, heat the milk and butter (or margarine) until very warm (about 120-130 degrees). The butter or margarine does not have to fully melt.

With an electric mixer at low speed, slowly add the wet ingredients into the dry ingredients. Beat on medium speed for 2 minutes, occasionally scraping bowl with a spatula.

Beat in egg and 1 cup flour, occasionally scraping the bowl. Continue to add in enough flour (up to 2 1/2 more cups) until a soft dough forms. Turn the dough out onto a lightly floured surface and knead for 10 minutes until smooth and elastic.

Shape into a ball and place in greased bowl. Cover with a towel and let rise for 1 hour in a warm place until doubled in size.

After an hour, punch down dough. Grease a 13 x 9 baking pan and set aside.

In a small bowl, combine the filling ingredients: brown sugar, pecans, raisins, and cinnamon and set aside.

Roll dough into 18 x 12 inch rectangle. Brush dough with melted butter or margarine. Sprinkle with the brown sugar filing mixture.

Starting at the long 18-inch side, roll dough jell-roll style and pinch the seam to seal it. Cut 15 slices and place each piece close together in the baking pan, on their side so you can see the inside of each piece. Cover and let rise until doubled for 40 minutes.

Preheat oven to 400 degrees. Bake for 25 minutes or until lightly golden brown. Cool slightly on wire rack.

While cooling, make the icing by combining Confectioner's sugar, vanilla and milk in a medium bowl. Drizzle over slightly cooled cinnamon rolls and serve.
…The Backstory continues: There are few things in life that are better than sweet, warm cinnamon rolls fresh out of the oven, but to get to that point where you're about to dig into them, you've got to have the patience to make the dough and go thru the double rise process. It's simply a matter of time, and telling yourself that it will all be worth the wait (as these are). The smell of brown sugar, cinnamon, raisins, and pecans (optional, but I include them) baking in the oven and getting all melty and gooey is truly sublime. This is a fun recipe to make with the kids and there are so many opportunities for them to learn about measuring, rolling, timing, and if you're lucky–sharing.
Good luck with that last part–these are so scrumptious, they'll never last past breakfast or brunch.
Please follow and like us: