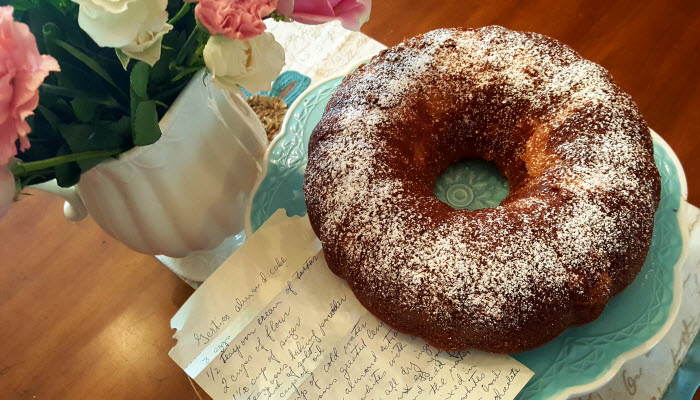 Grandma Gertie's Almond Cake

Grandma Gertie's almond cake is an old-fashioned cake that's light with note of almond and lemon. This gorgeous cake is perfect with coffee or tea.
The Backstory: Today, Mother's Day 2017, my mother gave me a beautiful Mother's Day card, and tucked inside was a recipe for almond cake, hand-written by my grandmother, Gertrude Feldberg. It was titled Gerties' Almond Cake. The moment I laid eyes on it, it became the only recipe I ever had written by my grandmother, in her own handwriting. I flipped over the slightly-yellowed, lined paper to find that she had written it on the blank side of calendar/memo page dated Sat – Sun June 25-26, 1977. She would have been 63 years old. More of the Backstory after the recipe…
Gertie's Almond Cake
Total Time
1
hour
15
minutes
Ingredients
8

eggs, separated into whites and yolks

1/2

tsp.

cream of tartar

2

cups

flour

3

tsp.

baking powder

pinch of Kosher salt

1 1/2

cups

sugar

1/2

cup

vegetable oil

3/4

cup

cold water

2

tsp.

grated lemon rind (from 1 lemon)

1

tsp.

almond extract

2

tbsp.

cocoa powder

Confectioner's sugar for dusting
Instructions
Preheat oven to 350 degrees. Spray a bundt pan generously with non-stick baking spray.

Beat eggs whites with cream of tartar (I used my Kitchen Aid standing mixer to do this) until medium-stiff peaks form. Transfer whites to a separate bowl and rinse and dry the mixing bowl. Set whites aside.

In a medium bowl, mix dry ingredients together (flour, salt, baking powder) and set aside.

In electric mixing bowl, add egg yolks, sugar, and oil, and beat well. Add lemon rind and almond extract. Slowly add in dry ingredients. Add water and mix again.

Add egg whites to mixing bowl, leaving behind about 1/2 cup of egg whites. You will discard this amount and not use it (crazy, but that's what's in the recipe.) Combine well.

Be sure to scrape up batter from bottom of the bowl because the batter on top of the bowl will be thinner than the batter at the bottom. I stopped the mixer and mixed by hand for a few seconds to make sure it was well-incorporated.

Add 2 tbsp. cocoa powder and combine.

Pour into bundt pan and bake for 1 hour or until toothpick or cake tester comes out clean.

Remove cake and let cool on wire rack for 20-30 minutes. Gently run knife around edges of pan and the inner circle of the pan and invert. Dust with Confectioner's sugar and serve.
…The Backstory continues: I immediately looked at my mother and said, "Aha! I told you she baked!" This, in response to the years-old back and forth argument my mother and I have waged, my mother insisting she never saw my grandmother (her mother) bake anything from scratch, and me, who stayed over my grandparents' home many a Saturday evening after they picked me up from my father's bagel bakery and I would spend the night (our entire family–cousins, aunts, uncles would come the following Sunday morning for a delicious Jewish breakfast) and on Sunday mornings, I insisted my grandmother would bake delicious bundt cakes and pies, with me sitting a few feet away in their Bergen Beach kitchen. My mother told me I was crazy. Now I had proof in my hands.
I decided I had to make the almond cake right then and there. And so I did. What follows is my grandmother's recipe with a few verbs added for your reading pleasure so that you too, will know when to add the lemon zest and almond extract, as darling Gertie didn't exactly provide that information (but anyone who has ever baked a cake can figure it out). God forbid anyone in my family thought, spoke (or wrote) in full sentences.
The cake is absolutely delicious.
Since my darling grandmother also didn't specify what kind of pan to bake it in, I took a page from my early Sunday mornings with her and used–what else–a bundt pan. Yes, you need to work it out a little–but if you spray the heck out it with baking spray and give it a little nudge with a narrow metal spatula, it will come out. Swearing helps too.
P.S. Upon reading this post, my mother announced that my grandmother used to make jelly roll cakes. Of course she did. I find this sudden announcement highly suspect and very CYA (as mom doesn't like to proven wrong!). Nonetheless, I will now try to hunt down these jelly roll recipes. $100 says they don't exist, LOL!
Please follow and like us: