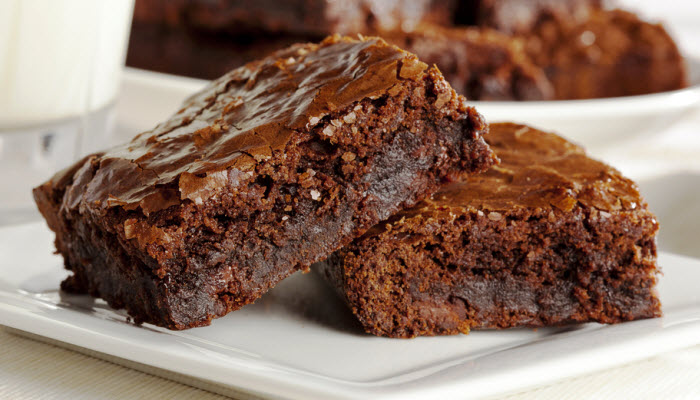 Dense, chewy, and oh so chocolaty, this is my go-to brownie recipe, hands down.
The Backstory: I'm a self-confessed sweets addict. I suppose it was destiny, with a baker for a father and a bagel bakery as our family business. More of the Backstory after the recipe…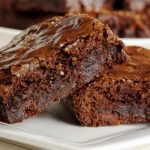 Fudge Brownies
These rich, decadent, and moist brownies are super easy to make, pack well in school lunches, and are foolproof every time. Add nuts, marshmallows, or any other special mix-in, or bake as is for a dessert that's perfect for any occasion.
Ingredients
1

cup

unsalted butter

4

squares

unsweetend chcolate

2

cups

sugar

4

eggs

1

cup

all-purpose flour

1

tsp.

vanilla extract

1/2

tsp.

Kosher salt

1

cup

coarsely chopped nuts, optional

walnuts or pecans
Instructions
Preheat oven to 350 degrees. Spray or grease a 13 x 9 inch baking pan.

In a medium saucepan over low heat, melt butter and chocolate, stirring mixture constantly. Remove pan from heat and stir the sugar into the chocolate. Set aside and allow mixture to cool slightly.

Add eggs, one at a time to chocolate mixture and beat until well combined. Add flour, vanill and salt to chocolate mixture and stir well. Add nuts or other mix-ins (if using them) and combine well.

Pour chocolate mixture into baking pan and smooth top with rubber spatula. Bake for 30-35 minutes or until cake tester or toothpick inserted into center comes out clean. Cool on wire rack. Sprinkle with powdered sugar and cut into large squares.
…The Backstory continues: That said, I haven't met too many desserts that I don't love (except for chocolate ice cream, if you can believe that one). Go figure.
In any case, this is a classic recipe for a classic dessert. You simply cannot go wrong with it. You can add nuts or leave them out. Add chocolate chips to the batter for an extra dash of chocolatey goodness, or if you're feeling a little more daring, some toffee bits, butterscotch chips, or a handful of shredded coconut. This is a tried and true, versatile recipe that's perfect as is, or a canvas for you to customize.
My husband has a thing for the chewy edges and corner pieces of these once they're cooled and I'm more of a center of the brownie pan, kind of gal. Either way, these are moist, decadent and delicious. Make sure you grab one before you serve them, because once you cut them into squares and put them on a plate, they'll be gone in no time.
Please follow and like us: