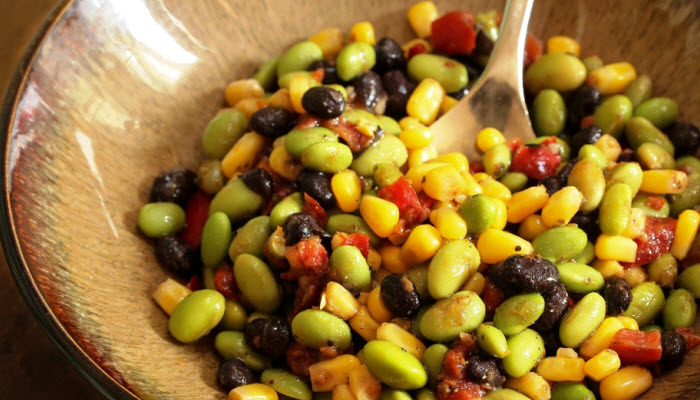 Corn Succotash with a Twist
Corn succotash is a delicious medley of sauteed, sweet and tender veggies.
The Backstory: Forget the traditional recipes you're used to–more up to date veggies have been added to make this a truly exciting dish. Usually corn and red peppers come to mind when thinking about succotash. True, corn is still part of the equation but so is edamame, shallots, and black beans. This side dish is so colorful, delicious and easy to prepare. Some of the veggies can be fresh, frozen, or from a can–use whatever you have on hand or what looks tempting at your local market. More of the Backstory after the recipe…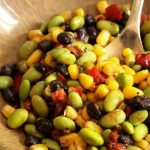 Corn Succotash with a Twist
How colorful this dish is with all the different veggies bringing their distinct flavors and textures. The usual seasonings only boost the veggies to deliver a more fun and flavorful dish. This side is delicious hot, cold, or at room temperature.
Ingredients
4

cups

frozen corn, thawed

if using can corn, drain liquid and reseve it.

2

cups

frozen edamame. thawed

1

large

red pepper, seeded and cut into small pieces

1

large

can black beans, well-drained

or kidney beans

1

small shallot, diced

1

clove garlic chopped

1-2

tbsp.

canola or vegetable oil

2

tbsp.

fresh parsley or basil
Instructions
In a large skillet, on low to medium heat, saute the shallot and garlic. Stir often to prevent overcooking. Add the red peppers and cook until slightly softened. Add the corn, edamame and the black beans. If more liquid or oil is needed you can add some of the reserved liquid from the canned corn.

Do not drown the veggies in too much oil. The canned veggies are already cooked so just heat all for a few minutes. Remove from heat and serve.
…The Backstory continues: Succotash is one of the most versatile sides imaginable.  It's absolutely delicious on its own as a vegetarian meal (just add pasta, shredded cheese, or leave as is, and trust me, you could eat the entire bowl), or serve is as a side with chicken, fish, or beef and it's absolutely fabulous. But one of my favorite ways to serve it is to use it as a bed for a Citrus Glazed Salmon to make a truly wow presentation.
I take a large plate and make a circle of the succotash in the middle of the plate. Already I'm happy because the plate looks beautiful with the confetti-like colors of the succotash, plus, all of the juices and sauce from the salmon will just ooze right on top of it. Mouth watering. Then I place a piece of the fish right on top, and voila, Instant restaurant style dinner and truly, a delicious meal. One of my husband's favorites.
This recipe is truly a must try and the best part is that you can basically make it with whatever veggies you have on hand. Just opt for different textures and always make sure you cook them toward the crunchy side so you have that nice firmness when you bite. After writing this post, I think I know what I'm making for dinner.
Please follow and like us: