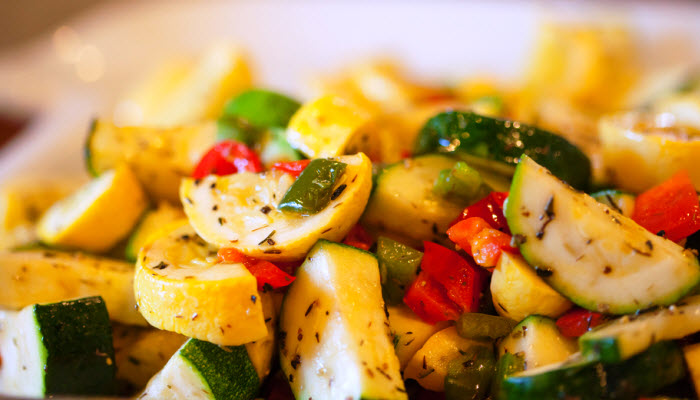 Sauteed Yellow Squash and Zucchini
Sauteed yellow squash and zucchini is sweet, tender, and just about the perfect side dish.
The Backstory: This fast and easy recipe is something that I've whipped up many times whenever squash and zucchini are in season. I'm always looking for new things to do with these delicious vegetables and it turns out, (no surprise) that they're at they're most delicious when they're lightly seasoned and served as close to fresh as possible. This dish is so interchangeable. A few veggies here, a few herbs, a little sauteeing, and voila. I prefer fresh herbs, but dried can be substituted. I haven't tried it yet, but I am sure that frozen veggies can also be used.   More of the Backstory after the recipe…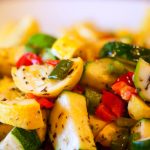 Yellow Squash and Zucchini
All the different colors make this dish look very appealing. The herbs add a fresh quality to the taste. This dish is a delicious side for poultry, fish, or beef. It can also be used as a vegetarian meal.

Prep Time 5 minutes

Cook Time 10 minutes

Total Time 15 minutes
Ingredients
2 yellow squash, unpeeled sliced into 1 inch rounds
2 large zucchinis, unpeeled sliced into 1 inch rounds
2 red and green peppers, seeded cut into 1 inch pieces, optional
1 tbsp. fresh herbs your choice
1-2 tbsp. vegetable oil
1/2 tsp. Kosher salt to taste
1/4 tsp. black pepper to taste
Instructions
In a large skillet on medium heat, add 1 tbsp. oil. Add the squash and saute for a minute or two, stirring often. Add the zucchini and stir for about a minute or two. Add the peppers, salt, and black pepper. If more oil is needed do it now. Do not drown the veggies with too much oil or they will become soggy.

On low heat cook for about 5 minutes and add the herbs. When veggies are soft but not mushy remove from heat and serve.
…The Backstory continues: What I also love about the combination of these two veggies is that they're easy to dress up. You can add a cup of homemade marinara and some fresh Parmesan cheese, for an instant ratatouille that goes beautifully with pasta. Likewise, serve sauteed yellow squash and zucchini cold or at room temperature with Israeli couscous for a delicious vegetarian lunch or dinner (add in some halved teardrop tomatoes–yum) for a truly scrumptious meal. This is just one of those versatile combinations that works well as a side or main dish and can move in and out with different seasonings to work seamlessly with an array of veggies, like eggplant, artichokes, and other vegetables.
Please follow and like us: