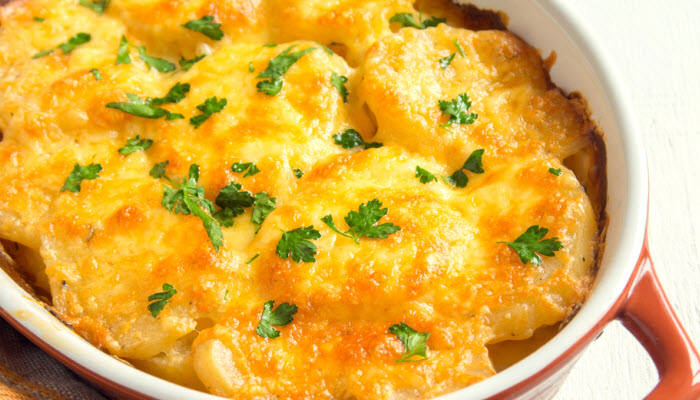 The Backstory: From the first moment I set foot in Paris in the winter of 1997, I loved it the way everyone who falls in love with the City of Love (and Light) falls in love. Deeply, madly, insanely. More of the Backstory after the recipe…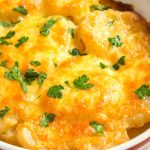 Au Gratin Potatoes
A creamy cheese sauce smothers potatoes that are soft on the inside and crisp and golden on top. This is the ultimate in comfort food and it pairs well with chicken, beef, lamb, and most fish dishes.
Total Time
2
hours
20
minutes
Ingredients
3

tbsp.

unsalted butter

3

tbsp.

all-purpose flour

1 1/2

tsp.

Kosher salt

1/8

tsp.

freshly ground black pepper

2

cups

milk (whole or 2%)

1

cup

Sharrp Cheddear cheese, shredded

5

cups

thinly sliced, peeled potatoes (Yukon Gold preferred)

about 6 medium potoatoes

1/2

cup

chopped onion

chopped fresh parsley for garnish
Instructions
Preheat oven to 350 degrees. Grease a 2-quart baking dish. Set aside.

In a large saucepan, melt butter over low heat. Stir in flour, salt, and pepper and stir until very smooth. Slowly add in the milk and bring to a boil, stirring constantly. Once the mixture boils, cook for 2 more minutes until thickened, stirring constantly. Remove pot from heat.

Stir in the Cheddar cheese and mix until the cheese is melted. Add the potatoes and onions and mix well. Transfer the mixture to the prepared dish. Cover with aluminum foil and bake for 1 hour. Remove foil and bake for an additional 30-40 minutes or until the potatoes are soft and golden brown on top. Garnish with fresh parsley.
…The Backstory continues: I don't know if it was the the anticipation of making my first trip, romanticizing the beautiful city from afar and finding it impossibly even more beautiful in person, the stunning architecture, delectable cuisine, or the fact that for the first time in my life, yours truly, who cannot find her way out of a paper bag and gets lost in a phone booth, had an innate sense of direction and simply understood where everything was–but Paris seemed like everything to me.
Everything I wanted to become. Everything I wanted to see. Everything I wanted to learn. Everything I wanted to taste. Everything I wanted to read. Everything I wanted to inhale and experience and take in. Right. Now. Please.
I could not stop gasping at every turn. I was that wide-eyed first-timer who simply fell hard and could not shake the feeling of having come home and finding her Wonderland. I know it's cliche and others have fallen before, but I admit I was one of them. I make no excuses for my blatant schoolgirl crush (at the ripe old age of 32).
One morning, I wandered into a tiny (I mean tiny–maybe 250 square feet) store that specialized in pastries. Pastries filled with cheeses, meats, potatoes, and combinations of all three. They also sold exquisite mini gratins. Gorgeous gratins of potatoes with herbs and cheeses and tiny breadcrumbs. Maybe each gratin equaled five or six bites. They were about the size of a small, homemade brownie. And all I could think about for days and weeks after my trip, was the love and care that someone must have, to make a tiny gratin for another, that would take all of five or six bites to savor and enjoy.
That's a certain kind of dedication and artistry and commitment to a skill, to a customer, to a craft. To a potato. N'est-ce-pas?
And that's Paris.
Please follow and like us: