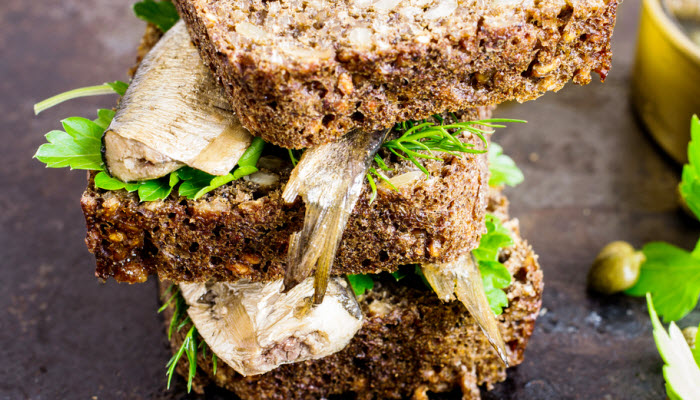 A simple fish sandwich with a salty note that's perfect for lunch or a light bite.
The Backstory: This is a classic sandwich.  You can add whatever you like to the mix or you can follow the recipe.  But to tell the truth, this is something I will not eat.  It ranks very high on foods that will not cross my lips.  Yet, so many of my family and friends think I am crazy for not indulging in this fish.  So, here's the story of why I am traumatized by this fish.  Let's go back to 1951.  I was 10 years old and my sister Nicky was eight.  It was September and we were back in school after spending the summer at a bungalow colony, in the Catskill Mountains.   More of the Backstory after the recipe…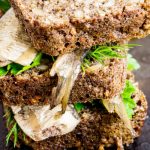 Sardines in a Sandwich
This classic fish sandwich is a taste of a bygone era. It's salty, crunchy, and will remind you of days gone by.
Ingredients
2

3.75 ounce cans of Skinless, boneless Sardineds drained and chopped

2

hard boiled eggs, peeled and mashed

1

stalk celery, chopped.

8

slices of cucumber

1/4

cup

mayonnaise

1

tsp.

dried parsley flakes

or dried dill

1

11 ounce package of salad greens

4

rolls, lightly toasted

or any bread of your choice

1/4

tsp.

black pepper

8

slices of tomatoes

1

tsp.

lemon juice
Instructions
In a large bowl add the sardines, mashed eggs, and celery, Mix and set aside. In a small bowl mix the mayonnaise, lemon juice, parsley, and black pepper. Set aside.

Set out 4 plates. On each plate, place one roll. Smear mayonnaise mixture on both sides of all the rolls. Place salad greens on the bottom of each roll, add some of the sardine mixture to each roll, add cucumbers to each roll, and add tomatoes, Top with more salad greens, Close sandwich, cut in half, and serve.
…The Backstory continues: Every day my sister and I came home for lunch. Usually we had a great sandwich and a bowl of Campbell's soup. Not this time.  What greeted us as we sat down to eat, (how can I put this, without choking) was two slices of white bread, with something sticking out from the middle.  It was these small, ugly-looking things.  We did not know what they were.  But we were having none of this.  My mother insisted we try it.  Well, you get the picture.  We refused to eat it and were told we could not leave the table until we ate half a sandwich.  Amid tears we choked down the sandwich, drank plenty of milk, and ran out of the house.  My mother yelled after us,  "You didn't die."  No, but we wanted to do bodily harm to her.  Needless to say she never gave us that again.  Thank G-D
P.S. When I related this story to mother years later, she had no recollection of this.happening. It figures. I guess if she would have made the sandwich this way, things would have turned out differently.
Please follow and like us: