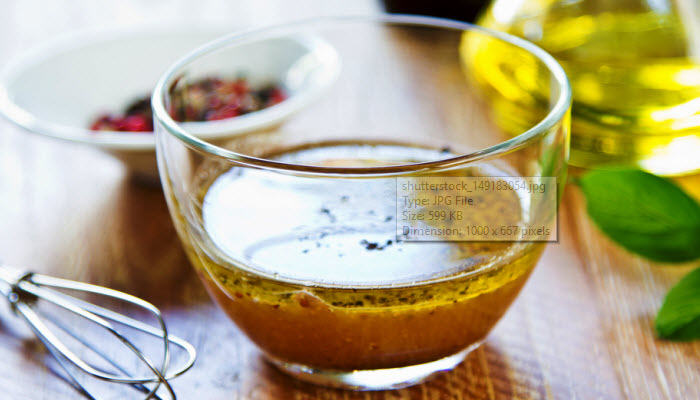 If you master only one salad dressing, make this the one.
The Backstory: I prefer making my own salad dressings.  Yes, I do have bottled salad dressings in my refrigerator but nothing can compare with homemade dressing and freshly chopped herbs. Just the aroma of herbs alone will convert you into making dressings from scratch. More of the Backstory after the recipe…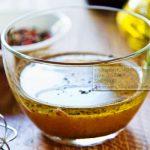 Vinaigrette Dressing
Fresh, tasty ingredients make all the difference in this savory blend. It is light and very refreshing. You can also use it as a baste for chicken or fish.
Ingredients
1

cup

canola or vegetable oil

olive oil can be used

1/2

cup

balsamic vinegar

white or dark

1

clove garlic chopped

1/2

tsp.

Dijon mustard, to taste

or any other mustard

1/2

tbsp.

minced onions

or chives, shallot

1/2

tsp.

white sugar

to taste, or honey

1/2

tsp.

Kosher salt

to taste

1/4

tsp.

black pepper

to taste

1

tbsp.

chopped fresh parsley

or any other herb

lemon juice zest (optional)

to taste
Instructions
Whisk all ingredients together in a bowl. Check seasonings and adjust to your tastes. Add a little lemon juice or zest (optional) if you like a bright citrus note. Refrigerate until ready to serve.
…The Backstory continues: This dressing just takes a few minutes and you can double the batch and store it for several days.  There are so many variations to this basic recipe and you can doctor it up as you go.  I have added different herbs, substituted onions for shallots, or chives.  You can swap out sugar for honey, honey mustard or whole grain mustard for Dijon, etc. Use what you have on hand and feel free to experiment. The one thing doesn't change, is that you need an acid and an oil combination to achieve sweet/savory balance of flavors. The rest is whatever you feel like and whatever your pantry, fridge, or garden holds.
Please follow and like us: