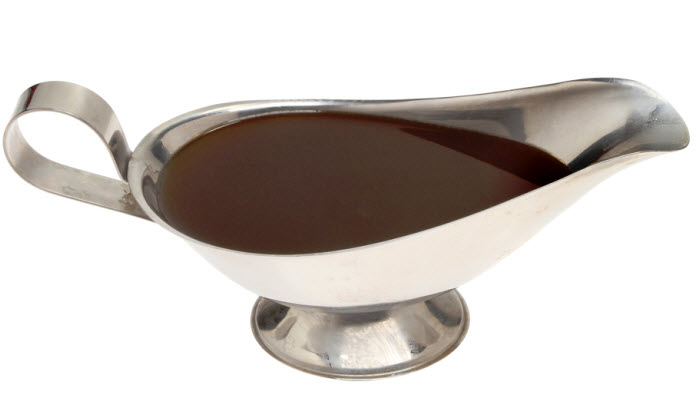 Perfect gravy every time with this easy recipe.
The Backstory: Making a gravy can be very tricky.  Too much flour, not enough liquid, incorrect seasonings, and next thing you know, you've got a mess on your hands. That is why some cooks rely on jars or cans of gravy from the market.  However, there's really no need to panic. Flavorful gravy is actually pretty easy to make and this recipe takes you step by step as to how to do it perfectly each time. More of the Backstory after the recipe…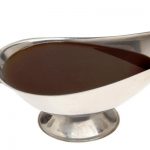 Beef Gravy
Rich in color and very tasty, this gravy is perfect every time and has just the right blend of seasonings.
Ingredients
1/4-1/3

cup

meat drippings

1/4+

cup

flour

2

cups

Kosher beef stock or broth

1

shallot, chopped

optional

1/2

tsp.

Kosher salt

1/4

tsp.

black pepper

1

6 ounce box of mushroom cleaned and cut in half

optional
Instructions
After removing beef from pan, pour the drippings in to a bowl. Measure out 1/4 cup of the drippings. Put the roasting pan on the stove. Put the 1/4 cup drippings into the pan, and add the shallot and the flour. Cook on low heat stirring constantly. When the flour is a light brown and the shallot is softened, gradually add the beef broth.

Stirring constantly, try to get any of the brown bits from the bottom of the pan into the mixture. Add the mushrooms and bring this to a boil. When the broth and flour mixture is smooth, taste the gravy and make any adjustments to the seasonings. Remove from the heat and serve with the meat.
…The Backstory continues: Of course to make a good beef gravy, you first have to make a roast beef or a brisket or a another beef dish. This recipe is the next step in that process.  Another trick is to go to your local market and buy a ready made roast, however, you won't have the pan drippings to make a gravy. Of course, most butchers sell that too (is there nothing sacred anymore?!)
I would only  pursue that option (buying a pre-made roast) if I had left over gravy and not enough meat, and I want to make a second meal. But that will just be our little secret.
Please follow and like us: