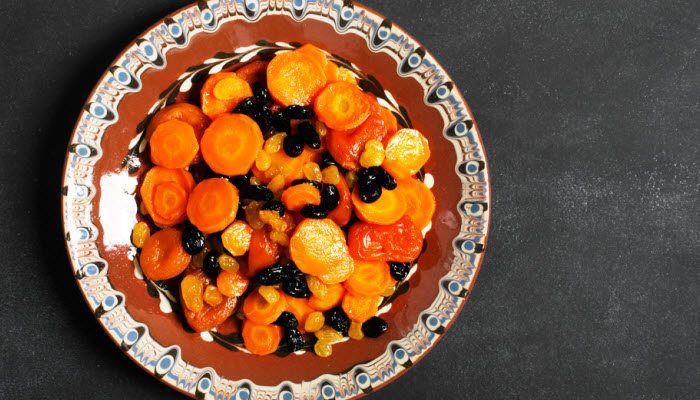 The Backstory: There is something so special about Rosh Hashanah and its traditions – and I'm not being biased because this holiday usually falls around my birthday! The sweetness of the whole occasion seems to lift everyone's spirits and signal a fresh start. More of the Backstory after the recipe…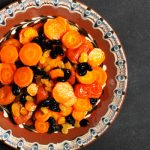 Traditional Tzimmes
Autumnal vegetables, fruits and and spices are simmered and stewed together for the perfect blend of sweet and savory goodness. The tzimmes gets sweeter and better the longer it sits and served at room temperature so don't be afraid to make ahead (even a day or two) and let it sit in the fridge.
Total Time
1
hour
10
minutes
Ingredients
9

medium carrots

peeled

4

sweet potatoes

1

cup

pitted prunes

1

cup

dried apricots

2

tbsp

fresh lemon juice

1/3

cup

fresh orange juice

1/4

cup

honey

1

tsp

ground cinnamon

2 1/2

tsp

orange zest

1/4

tsp

Kosher salt
Instructions
Heat oven to 350 degrees.

Cut carrots into 2-inch pieces. Bring a large saucepan of water to a boil, and lower heat to medium; add sweet potatoes in their skins, and cook for 20 minutes, adding the carrots after 10 minutes. Drain in a colander, and set aside until cool enough to handle.

Peel sweet potatoes, and cut into 1-inch chunks. Place in a large bowl along with carrots and remaining ingredients. Mix well, and transfer to a 2-quart baking dish.

Cover with foil, and bake for 30 minutes, basting with pan juices after 15 minutes. Remove from oven, and serve immediately.
Recipe Notes
This makes for a lovely root vegetable side dish, but add brisket, chicken or turkey for a main course meal.
After baking, ensure all your vegetables are well cooked. If your carrots are still hard, bake for a bit longer.
…The Backstory continues: I've always thought that, as Jews, we are lucky, as we are blessed with two New Year's. Every December 31, I make a list of resolutions that I don't often abide by (Exercise, Shmexercise), but Rosh Hashanah gives us that second chance. This time of year is one to take a break, reflect and align one's path and priorities. Another opportunity for a sweet, prosperous and healthy year.
Aside from the much-loved apples and honey, this hearty and honeyed Tzimmes is just as comforting as the notion of Rosh Hashanah. That said, this sweet stew can be cooked anytime of year – some people serve Tzimmes over Hanukkah and Passover.
The Yiddish term, Tzimmes, is derived from words (tzim + esn) that more or less means "for eating". While that goes without saying, this recipe yields a substantial amount, so you may be eating it for days. Feel free to halve or double the ingredients, depending on the number of people for which you're catering.
Please follow and like us: