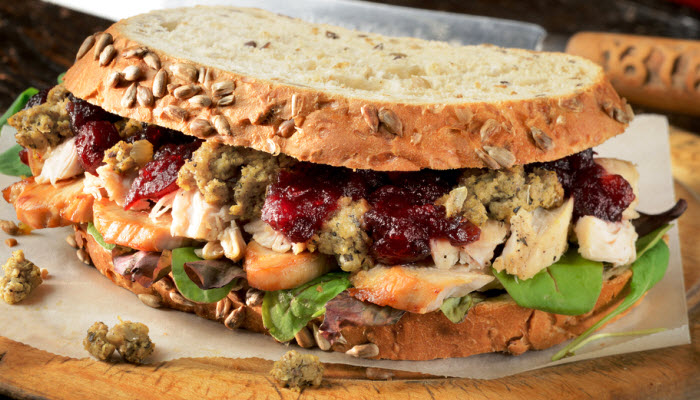 Turkey & Cranberry Sandwich
The Backstory: There probably isn't a meal as coveted, anticipated, and fussed over as the Thanksgiving meal, and with good reason. Between the juicy turkey, the delectable side dishes, and the decadent desserts, there are a million and one reasons to go crazy. More of the Backstory after the recipe…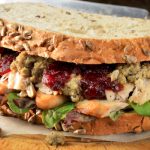 Turkey, Cranberry Sandwich
Cranberry sauce with its sweet yet tangy taste is a good partner for the turkey. It adds the flavor that is needed to something that is not always very moist. Adding some dressing and salad greens to perk up the sandwiches.
Ingredients
1

lb.

slice cooked turkey, divided in fourths

at room temperature.

turkey gravy to moisten the turkey

1

cup

cranberry sauce

salad greens

8

slices good white or whole grain bread

1

cup

stuffing, heated

1/4

cup

Vinaigrette dressing of your choice
Instructions
Wash and dry a cup or two of salad greens and add a few tablespoons of vinaigrette. Set aside. Reheat the turkey, stuffing and gravy. Set aside.

Take 8 slices of good quality bread, 2 per sandwich. On one side for each sandwich, add some dressed salad greens. Top with sliced turkey and a tablespoon or two of warm gravy. Add a layer of warm stuffing and cool cranberry sauce. Top with more lettuce to keep the cranberry sauce in place. Top with another slice of bread.

Cut the sandwiches in half and serve.
…The Backstory continues: If you use any of the recipes from The Jewish Kitchen to prepare your holiday meal, I can understand the excitement. I'm not trying to toot my own horn here, especially since so many of our recipes come from other cooks–family members, friends, and viewers who submit the very best of the best. We know we've got good stuff. Which means that after the meal, we have some serious culinary bounty for days to come.
So what's a gal (or guy) to do with all the leftovers?
Well, you can make soup, croquettes, salads, wraps, or even quesadillas from the leftover turkey. You can also make a simple sandwich and pile on the goodies. No cooking required. Just a few slices of quality bread and a little reheating in the microwave.
So pull out the turkey, gravy, stuffing, cranberry sauce, salad greens, and a little vinaigrette dressing. And get ready for THE. MOST. DELICIOUS. SANDWICH. EVER.
This is my idea of leftovers.
Please follow and like us: