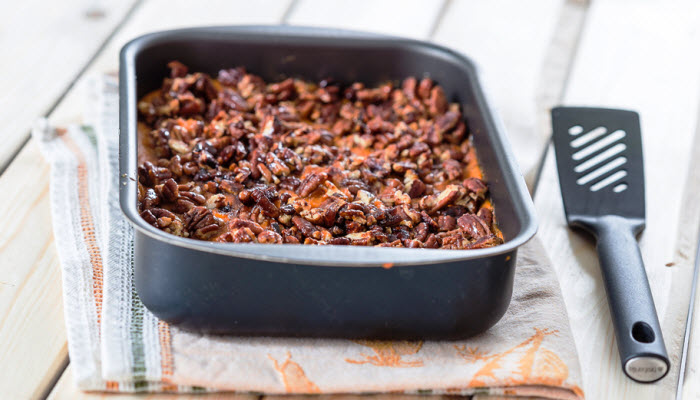 The Backstory: What would Thanksgiving be without its magnificent side dishes? Some years, I think I'd rather eat a plateful of side dishes than the big bird itself, and I'm the one who usually cooks our turkey. Go figure! More of the Backstory after the recipe…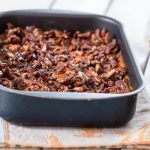 Sweet Potato Supreme
This rich casserole gets a little twist with the addition of juicy apricots in their syrup for a decadent side dish that does not disappoint. Crunchy pecans blended throughout give the sweet potatoes a surprising extra crunch.
Ingredients
1 1/4

cup

brown sugar

1/4

tsp.

Kosher salt

zest of one orange

2

tbsp.

butter or margarine

1 1/2

tbsp.

cornstarch

1/8

tsp.

cinnamon

1

1 lb. can apricot halves in syrup

1/2

cup

pecans

2

lbs.

canned sweet potatoes
Instructions
Preheat oven to 375 degrees.

Place sweet potatoes in greased 9 x 13 baking dish or 2 quart round or oval baking dish.

Combine sugar, cornstarch, cinnamon, orange zest, apricots and syrup in medium saucepan. Cook and stir until boiling. Add pecans. Pour over potatoes.

Bake uncovered for 25 minutes.
…The Backstory continues: One of my favorite Thanksgiving sides is sweet potato casserole and it's not just the dish itself, it's what happens when a little bit of this decadent dish rubs up against a little homemade cranberry sauce. Or when it just so happens to get too close to the stuffing. Just the mixing and matching of all these sweet and tart fall flavors is enough to send me into to a frenzy (and it's only July as I write this, folks.)
This gorgeous recipe is especially rich and delicious. My cousin Shirlee, definitely knew her way around the good stuff. The tender, sweet apricots are the perfect foil to the crunchy pecans and autumn spices.
Special thanks to my cousin Lennie Feldberg, for permission to re-publish his late first wife's recipe here for all of you. Thank you bunches, Big Lennie. All of these wonderful recipes live on and are being shared by cooks young and old. Which is the purpose of this site. So that each of us can share our love of food, family, and tradition with the next generation.
If you are reading this now…Happy Thanksgiving!
Please follow and like us: