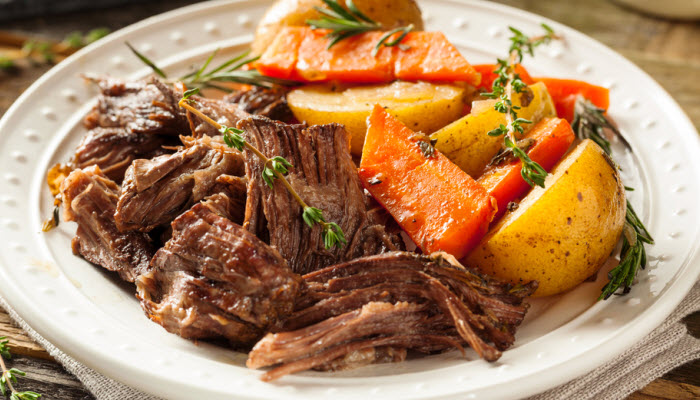 The Backstory: This recipe is something I concocted. I have been doing the stove top version for as long as I could remember. I also am using the same deep, heavy aluminum skillet that my grandmother gave me. It is safe to say I do not remember using this pan for any other meal. I have since had other recipes for pot roast or brisket and they are all excellent dishes. But this is my personal favorite. My family liked it. However, when I would say we are going to have this for dinner, my hubby would say, "Lets eat out."  This was a private joke between us.  He liked the pot roast, but he always looked for a way to squeeze another dinner out with the kids.   Pot roast was the excuse.  No complaint from me. More of the Backstory after the recipe…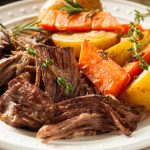 Stove top Pot Roast
No need for a knife to cut this tender meat. A fork will do fine. It is so delicious. The veggies give the dish an extra umph. You will find that the gravy gives it the finishing touch. Even though, It is what I considered one of my Winter comfort foods. I have made this in the warm weather. After all how many burgers, or hot dogs can you eat all summer. So, do go for the comfort foods all year long. Enjoy.
Total Time
3
hours
15
minutes
Ingredients
2 1/2-3

lbs.

Kosher Pot roast

Brisket can be substited

2

large sweet onions cut in rings

3-4

large carrots

peeled and sliced in chunks

3-4

large potatoes

peeled and sliced in chunks

1/2

tsp.

Kosher salt

1/2

tsp.

pepper

1/2

tsp.

dried thyme

1/2

tsp.

paprika

2

tbsp.

fresh parsley, divided

1/2

tsp.

garlic powder

2

cups

water

2

tbsp.

Worcestershire sauce
Instructions
Season meat with pepper, salt, paprika, thyme, garlic and 1 tbsp. fresh parsley.

Put meat into large deep frying pan. Do not add oil. Sear on all sides.

Mix water and Worcestershire sauce together. Set aside. Put onion rings on top of meat and on the sides. Pour 1 cup of water and Worcestershire sauce over meat, reserving 1 cup for later. Cover and cook on low to medium for 1 1/2 hours.

Take out meat and carve against the grain to desired thickness. Return to pot . Add potatoes and carrots. Add more liquid as needed. Cover and cook for another 1 1/2 hours. Check often till done. Garnish with remaining tbsp. fresh parsley before serving.
…The Backstory continues: Needless to say , tomorrow's dinner was ready to go. Whenever we would go out for dinner it was usually Italian or Chinese food. (Typical Jewish family!) In those days no one took home a doggie bag. More food was left on the table than my kids ate. They never shared a meal. What I could have done with those leftovers! So, Bubbe, thanks for the pot and the memories.
Please follow and like us: